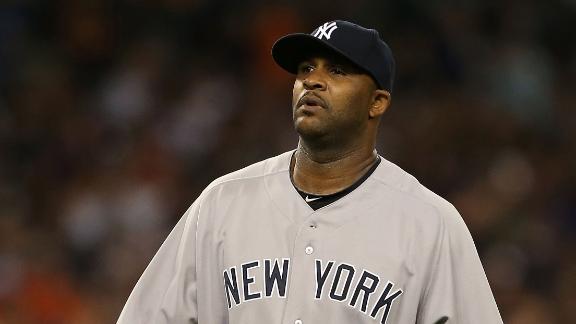 NEXT VIDEO
TORONTO — CC Sabathia, the ace of the New York Yankees pitching staff, is headed to the disabled list with stiffness in his pitching elbow.
More On The Yankees

Want to get the scoop on everything in pinstripes? ESPNNewYork.com has you covered. Blog

Yankees manager Joe Girardi announced the move Saturday after the Yankees beat the Toronto Blue Jays 5-2, and several hours after Sabathia was spotted icing his elbow in the trainer's room at the Rogers Centre.
According to Girardi, Sabathia first felt the stiffness after pitching a complete game against the Seattle Mariners on Aug. 3 at Yankee Stadium. A subsequent MRI came back clean, so Sabathia made his next start five days later in Detroit, but left after 6 1/3 innings and just 94 pitches.
Girardi said the stiffness resurfaced after that start, but the decision to put Sabathia on the DL was not made until about 4 p.m. Saturday.
"As far as our concern, it's pretty low," Girardi said. "It's not like it got any worse. He wants to pitch on Monday, which I'm not surprised, because he said he's dealt with it before. We just decided, let's try to get it cleaned up now."
Girardi said Sabathia would see a doctor on Monday after the Yankees return to New York, but no further tests were scheduled.
"It's a tough decision," Girardi said. "Do you let him pitch and try to fight through it, or is it enough of a concern that we have him maybe miss just two starts and we'll get him back?"
Sabathia did not make himself available to reporters after the game but a Yankees spokesman said the pitcher would address the media Sunday morning.
Sabathia missed three starts between June 28 and July 16 while sidelined with a left groin strain. After his return, Sabathia made five starts and won three; his record is 12-3 with a 3.56 ERA.
Sabathia is the latest in a long line of key Yankees to serve time on the DL, starting with Michael Pineda (rotator cuff) in spring training, Brett Gardner (elbow inflammation) in April, Mariano Rivera (torn ACL) in May, Andy Pettitte (fractured ankle) in June and Alex Rodriguez (broken left hand) in July.
Still, the Yankees have maintained a hold on first place in the AL East; their 5-2 victory on Saturday lengthened their lead over the Baltimore Orioles to six games, pending the outcome of Saturday's night action.
"We're going to deal with it; that's the bottom line," Girardi said. "We don't want to, but we need to have him healthy. If we're going to continue to move on, we're going to need to have him healthy."
Girardi said no decision has been made on who will take Sabathia's place in the rotation when the Yankees open a four-game series against the Texas Rangers on Monday night at home. David Phelps, a starter by trade who has been pitching out of the bullpen, is a possibility, as is someone from the Yankees' Triple-A affiliate in Scranton/Wilkes-Barre.
"We'll have to decide," Girardi said. "Our job is to win tomorrow and then we'll see where we're at."
ESPNNewYork.com
Yanks send Sabathia to DL with injured elbow
http://espn.go.com/new-york/mlb/story/_/id/8259918/new-york-yankees-put-cc-sabathia-dl-injured-elbow
http://sports.espn.go.com/espn/rss/mlb/news
ESPN.com – MLB
Latest MLB news from ESPN.com
http://a.espncdn.com/i/tvlistings/tv_espn_original.gif