DUNEDIN, Fla. — The New York Yankees dodged a bullet Friday when it was determined that reliever David Robertson suffered nothing more than a bone bruise on his right foot when he stumbled on a staircase in a household mishap Wednesday night.
The club had feared the worst — that Robertson had a hidden fracture or, at worst, a Lisfranc injury — after an MRI administered Thursday morning revealed "some cause for concern," in Yankees manager Joe Girardi's words. Robertson was then sent back for further tests, including a CAT-scan.
But in the ninth inning of the Yankees 3-0 win over an Atlanta Braves B-squad Friday afternoon at George M. Steinbrenner Stadium, it was announced — first by Jack Curry of the YES Network and later by Girardi — that Robertson's injury did not appear to be serious at all.
Yankees Spring Training 2012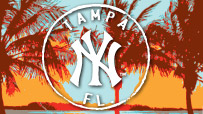 Full coverage from our team in Tampa. Yanks Center » More

Top 50

"It's a huge relief," Girardi said. "I got worried when (the doctors) said there was a cause for concern, but this is as good as it gets for us."
Earlier in the day, Robertson, still on crutches and with his foot immobilized in a walking boot, had said he "felt better" than he had on Thursday, but still could not put his weight on the injury.
"I didn't feel like I broke anything when I fell," he said. "It was just really sore and I was having trouble standing on it."
Robertson suffered the injury, he said, when he missed a step while taking some empty boxes out to the garbage at his home Wednesday night. When the injury worsened overnight, Robertson was sent to a Tampa hospital for X-rays, which came back negative. But an MRI revealed an injury of some sort.
Robertson was sent back to the hospital for a weight-bearing X-Ray and a CAT-scan, and the results were overnighted to New York to be evaluated by Yankees team Dr. Chris Ahmad and Dr. Justin Greisberg, a foot specialist.
The diagnosis of a bone bruise is encouraging, but hardly inconsequential; the Mets Ike Davis suffered a bone bruise on his ankle last May that cost him most of the 2011 season.
Asked if he expected Robertson to be ready for Opening Day, Girardi said, "I would think (so), but I can't tell you how it will heal. I wasn't real encouraged when I saw him walking (Thursday), but this is obviously good news."
Last year, in his fourth season in the majors, Robertson emerged as a key component of the Yankees bullpen, appearing in 70 games, mostly as the eighth-inning set-up man to closer Mariano Rivera. Robertson was 4-0 with a 1.08 ERA and 100 strikeouts in 66-¾ innings — the highest strikeout ratio on the staff.
ESPNNewYork.com
Yanks righty Robertson has bone bruise in foot
http://espn.go.com/new-york/mlb/story/_/id/7666847/2012-spring-training-david-robertson-new-york-yankees-bone-bruise-foot
http://sports.espn.go.com/espn/rss/mlb/news
ESPN.com – MLB
Latest MLB news from ESPN.com
http://a.espncdn.com/i/tvlistings/tv_espn_original.gif