DUNEDIN, Fla. — An MRI on the injured right foot of New York Yankees reliever David Robertson revealed "some cause for concern," according to manager Joe Girardi, who said Robertson was sent back to a Tampa hospital for further tests after stumbling on a flight of stairs at his home Wednesday while moving some empty boxes.
"I'm not gonna speculate on what he has," Girardi said after the Yankees lost, 6-1, to the Blue Jays. "We're not sure what's going on. I'm sure well have a better idea tomorrow."
Girardi said Robertson underwent a weight-bearing X-ray and a CAT-scan on the affected area of his foot and that the results would be overnighted to New York to be evaluated by team physician Dr. Chris Ahmad and Dr. Justin Greisberg, a foot specialist.
Yankees Spring Training 2012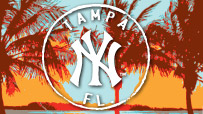 Full coverage from our team in Tampa. Yanks Center » More

Top 50

Robertson suffered the injury while moving some boxes down a flight of stairs at his home and "missed a step," causing the injury. Robertson called team trainer Steve Donohue last night and was taken for X-rays early this morning, which came back negative.
He was then given an MRI, which revealed unspecified damage to Robertson's right foot, which was immobilized in a walking boot. Robertson returned to George M. Steinbrenner Field in the mid-morning on crutches.
"It's just a little sore right now," Robertson said. "I actually just slipped. I misjudged a step and rolled over it a little bit. Clumsy."
Before Girardi knew about the disturbing MRI report, he acknowledged that Robertson might not be ready for Opening Day if the injury caused him to miss more than two weeks of spring training.
"You assume he's gonna be down for a little bit of time even if everything comes back OK," Girardi said. "He'll have to start over a little bit."
Now, with indications that Robertson's injury could be worse than initially suspected, Girardi may have to start making contingency plans for beginning the season without his most effective reliever from 2011.
"I'm not so sure he's going to miss enough time that we won't have him on Opening Day," Girardi said. "Until we get the test results we're not going to know. But I wasn't excited about the way he walked out today."
Girardi could not give a prognosis for Robertson's recovery but the club's worst fear is that Robertson may have suffered a Lisfranc injury, which landed Chien-Ming Wang on the disabled list and may have led to the shoulder injury that ended his career with the Yankees in 2009.
"Everyone's going to assume Lisfranc, and obviously I think you have to be concerned about that," Girardi said. "There was no swelling, so that's a positive sign for me, but who knows? I think he was more sore underneath, so we'll have to see."
Last year, in his fourth season in the majors, Robertson emerged as a key component of the Yankees bullpen, appearing in 70 games, mostly as the eighth-inning set-up man to closer Mariano Rivera. Robertson was 4-0 with a 1.08 ERA and 100 strikeouts in 66-2/3 innings, the highest strikeout ratio on the staff.
"He's a big guy for us," said Rivera, who said he saw Robertson being driven on a golf cart out of the Yankees spring training complex this morning. "Last year he did a tremendous job so we're expecting something good out of him this year also. So definitely we're counting on him but we're counting on the other guys, too."
Robertson had made one appearance this spring, against the Phillies in Clearwater on Monday and allowed a run in one inning.
"If it's gonna happen," Girardi said, "let it happen now."
ESPNNewYork.com
Yanks P Robertson's MRI shows some concern
http://espn.go.com/new-york/mlb/story/_/id/7660301/new-york-yankees-david-robertson-sprains-foot-home
http://sports.espn.go.com/espn/rss/mlb/news
ESPN.com – MLB
Latest MLB news from ESPN.com
http://a.espncdn.com/i/tvlistings/tv_espn_original.gif