TAMPA, Fla. — New York Yankees captain Derek Jeter has an injured left calf that will keep him out of spring training until at least next week.
Jeter, who will turn 38 in June, missed nearly a month last season in his pursuit of 3,000 hits with an injury to his right calf.
The Captain In Photos

With Derek Jeter a member of the 3,000-hit club, let's look back at The Captain's greatest moments in Yankees pinstripes.
Photo gallery
<!–
"My alarm was he hurt his calf last year and even though it is the other calf, we are going to be smart about this," Yankees manager Joe Girardi said. "I told him, 'Don't even go outside today.' I think he could hit or take BP, but just let it calm down."
Girardi said his target date for Jeter to possibly return is Tuesday.
The Yankees have been beset by injuries at shortstop. Jeter's backup, Eduardo Nunez, is scheduled to hit Saturday after missing more than a week because of an injured hand. Ramiro Pena hurt his ankle Thursday sliding while trying to steal second.
During the regular season, Nunez is expected to get "significant at-bats" against lefties, according to Girardi, spelling Jeter and Alex Rodriguez. On many of those days, Jeter or Rodriguez will be the designated hitter.
Yankees Spring Training 2012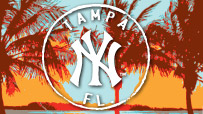 Full coverage from our team in Tampa. Yanks Center » More

Top 50

"I could see (last year) how both of the guys would respond after a day off or a DH day," Girardi said.
Jeter doesn't like to sit, even in spring training.
"I tried to prep him before I told him he wasn't going to probably play until Tuesday," Girardi said. "I said, 'remember what happened last year first.' I think he understands what happened last year."
Girardi made the announcement after the Yankees' clubhouse closed, so Jeter was not immediately available for comment. Girardi did not know exactly how the injury occurred.
"He said it was stiff, tender," Girardi said.
Besides Jeter, the Yankees are dealing with a variety of other spring training injuries. Girardi revealed he scratched catcher Russell Martin from Friday's lineup because of a groin injury. Right fielder Nick Swisher had a minor groin problem, but Swisher said Friday morning it is nothing serious.
Right-hander Freddy Garcia, fighting for a spot in the starting rotation, took a grounder off his hand the other day. X-rays on the hand were negative and Garcia is expected to pitch next week.
David Robertson, the Yankees' setup man, has been out more than a week after injuring his right foot when he slipped on some stairs at his home. The Yankees expect Robertson to be ready for Opening Day. He has yet to return to the mound since the injury.
ESPNNewYork.com
Yanks' Jeter out until next week with calf injury
http://espn.go.com/new-york/mlb/story/_/id/7695488/2012-spring-training-new-york-yankees-derek-jeter-next-week-calf-injury
http://sports.espn.go.com/espn/rss/mlb/news
ESPN.com – MLB
Latest MLB news from ESPN.com
http://a.espncdn.com/i/tvlistings/tv_espn_original.gif