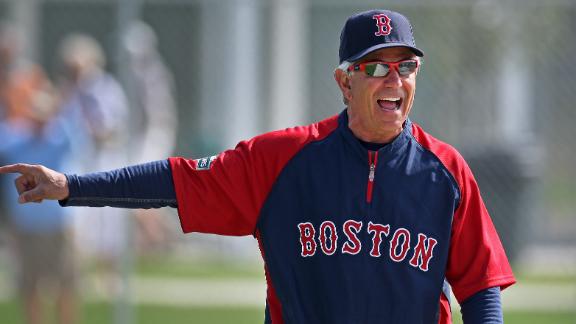 NEXT VIDEO
FORT MYERS, Fla. — Boston Red Sox manager Bobby Valentine said he "totally" expects No. 2 starter Josh Beckett to make his scheduled start Saturday in Detroit, despite a right thumb injury he will be examined for in San Antonio.
Beckett
"He's had a little situation that he's taking care of today — just for peace of mind," Valentine said.
Valentine said Beckett threw 100 pitches Sunday in a controlled bullpen session and "felt great." It remains unclear how Beckett injured his thumb. Valentine said Beckett has "a little history with it," saying it's not a blister but "just a little situation."
"It's been a little hard to quite put our thumb on it," Valentine quipped. "What was really good about the last couple of times he's thrown is that he had good command.
"I feel real good today, from all reports we got after yesterday, and he said he felt really good, and I talked to the trainers and Bob (pitching coach Bob McClure) and his high school coach.
"I feel really good right now. As in all cases, you have to be prepared, and I think we are. We are covered no matter what happens."
About an hour earlier, Alfredo Aceves had said he was told to be prepared to start for Beckett on Saturday and also the home opener on April 13. Aceves had been told Sunday that he had failed in his bid to get one of the final two spots in the rotation, losing out to Felix Doubront and Daniel Bard.
Red Sox Spring Training Central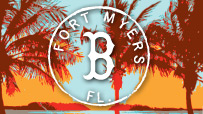 Complete coverage from our team in Fort Myers. Spring Training Center »

• Sox blog: Latest from the Fort »
"I'd rather not talk about conversations I have with players, but suffice it to say, you have to always be prepared," Valentine said.
Beckett's thumb issue comes on the heels of news that closer Andrew Bailey might miss the start of the regular season with his own right thumb injury.
"Interesting, isn't it?" Valentine said. "No thumb wrestling's allowed. We took that out of the program. The worst thing about it is, the other old adage is they happen in threes. 'Stop it, mom. Don't say it again.' That's what my mom always used to say.
"I'm not waiting (for the third one). I hope it's mine."
Valentine said this is why baseball teams never stop looking for pitching.
"Never have enough pitching: Whoever said it first, it's been repeated as much as anything in baseball," he said. "As we have sent guys to the minor leagues, we sent them with the understanding that it's a combination staff. This isn't a staff of 12 we're deciding on. It's a staff of 20-something. They're a part of it. Just because they got sent out doesn't mean they're not a part of it. Their progress is followed. There's always needs."
Rick Weber is a special contributor to ESPNBoston.com.
Valentine: Beckett probable despite hurt thumb
http://espn.go.com/boston/mlb/story/_/id/7764819/2012-spring-training-boston-red-sox-josh-beckett-probable-thumb-injury-bobby-valentine-says
http://sports.espn.go.com/espn/rss/mlb/news
ESPN.com – MLB
Latest MLB news from ESPN.com
http://a.espncdn.com/i/tvlistings/tv_espn_original.gif