Miguel Tejada won an MVP award with the Oakland Athletics. Now a shell of his former self, Tejada is using the media to try to rekindle a reunion with his former team.
"Tell (general manager) Billy (Beane) to give me a call," Tejada, who was released by the San Francisco Giants last season, told the San Francisco Chronicle Tuesday night. "I don't want big money. I just want to play."
[+] Enlarge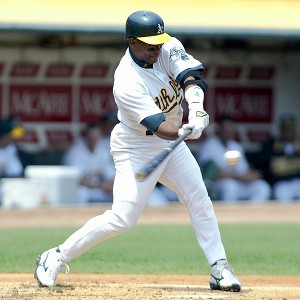 Tejada, who will turn 38 on May 25, said he would accept a minor league deal — such as the one Manny Ramirez recently signed with the A's — and knows the team is in a bind in the infield after third baseman Scott Sizemore suffered a season-ending ACL tear last weekend.
Tejada, who made $6.5 million in 2011, played 37 games at third base for the Giants last season and has played in 141 career games at the position. He has played the majority of his career at shortstop.
"I have always loved the A's. That's the organization that gave me a chance when I was a little kid in the Dominican. They opened all the doors for me . . . That's my family," he told the Chronicle.
Tejada also told the newspaper that he has become good friends with Cuban outfielder Yoenis Cespedes, who signed with the A's this offseason, and suggested that his presence in the clubhouse could help Cespedes adjust to the major leagues.
Tejada won the 2002 American League MVP award as a member of the Athletics, but left the cash-strapped organization to sign a $72 million, six-year contract with the Baltimore Orioles after the 2003 season. Since then, he's been traded twice, to the Astros in 2007 and to the Padres in 2010.
He was batting .239 with four homers and 26 RBIs in 91 games before being released by the Giants last September. He told the Chronicle that he performed poorly last season because he wasn't happy.
He has 304 home runs, but hasn't hit more than 20 in a season since 2006.
Tejada was sentenced to probation in 2009 after pleading guilty to withholding information about his former teammates' use of performance-enhancing drugs when questioned in 2005 by congressional investigators.
Tejada has acknowledged he bought human growth hormone while playing for the A's but said he threw the drugs away without using them, and prosecutors said during his 2009 plea hearing they had no evidence to contradict that.
Josh Donaldson, who was traded to the A's in the 2008 deal that sent Rich Harden to the Chicago Cubs, is the favorite to take over for Sizemore at third base. He played third base during his junior year at Auburn and was used at third 53 times in the Athletics' organization.
Information from The Associated Press was used in this report.
Unsigned Tejada lobbies A's to give him a shot
http://espn.go.com/mlb/story/_/id/7628989/miguel-tejada-lobbies-oakland-athletics-take-chance-him
http://sports.espn.go.com/espn/rss/mlb/news
ESPN.com – MLB
Latest MLB news from ESPN.com
http://a.espncdn.com/i/tvlistings/tv_espn_original.gif