LAKE BUENA VISTA, Fla. — It's the 22nd spring training of his professional lifetime, and off in the distance, Chipper Jones can see the countdown clock ticking.
3 … 2 … 1 … seeya?
As he takes those leisurely spring-training hacks in the batting cage, as he fields ground balls and flips them to first, as he leans back at his locker and absorbs abuse from his teammates for allowing a pre-tee-time interview to last half an hour, he's suddenly savoring every minute — all of it.
[+] Enlarge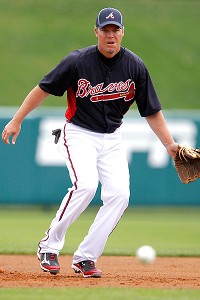 Because this just might be it. This just might be the final spring — meaning, if we apply our logic-class lessons correctly, also the final season — of the Braves third baseman's Hall of Fame career.
That word, "might," is still a big one. But if you ask this man if the thought has crossed his mind that this could very well be his grand Grapefruit League finale, Chipper Jones admits he has had that thought. Pretty much every day.
"So you pay attention a little more," he says. "You cherish your little fraternity that you're in. Whereas you took it for granted 10 years ago, now it's like, 'Well, this might be my last time, to go through this particular stage of the season with these guys.'
"And if it is," he says, matter-of-factly, "I'm OK with it."
Here's the deal: He's 39 years old. He turns 40 on April 24. He's been able to play 130 games only twice in the past seven seasons. He hasn't hit 20 home runs in a season since 2008. And he hasn't hit 30 since 2004.
Now if you just read that last paragraph, you'd think there wouldn't be much doubt, right? You'd think: Here's a great player who has pretty much reached the end of a spectacular career.
But hold on. Here's the other side of the story:
We're still talking about the No. 3 hitter for a team that won 89 games last year. We're still talking about a guy who smoked 33 doubles and led the Braves in slugging (.470) last year. We're still talking about a fellow who ranked second among all qualifying National League third basemen in OPS (.814).
And then there's this:
This is the final guaranteed year on the three-year, $42 million extension Jones signed in the spring of 2009 — but he has a $9 million option that will vest if he appears in 123 games this season. That option actually could be worth as much as $13 million if he plays in 140 games.
So for all the forces that are tugging him one way, there are forces nearly as powerful pushing him in the other direction. But Jones says he has already made up his mind about one thing.
If he can't play the way he thinks he should play, and if he can't play the way his team needs him to play, he won't make this difficult.
"Halfway through this year, I could say, 'I'm done,'" Jones says. "I wouldn't walk out on them in the middle of the year. But I'd have no problem saying that [it's time to retire at the end of the season]. And I'm fully prepared to do so."
But even if he doesn't pull that plug, even if he does return in 2013, "next year will definitely be it," he says. "I'm not going past next year."
He has been a Brave so long now that not a single one of the other 34 players who appeared in his first game in the big leagues (on Sept. 11, 1993) is still active. He has been a Brave so long, in fact, that he arrived in Atlanta a dozen seasons earlier than any other player on this roster.
So you know what that means? It means that he not only has just about done it all, but he also has just about seen it all.
And one unforgettable sight he has seen was how it ended for many of the Braves' icons he played with all those Octobers. So you know what will factor heavily into The Big Decision about his future? His determination to write himself a happier ending than his friends, Tom Glavine and John Smoltz, got to enjoy.
"The last thing I want," Jones says, firmly, "is to have happen to me what happened with Glavine and Smoltz."
Both Glavine and Smoltz, you'll recall, reached a stage of their careers when they wanted to keep playing and the Braves didn't think it made economic sense or baseball sense to keep paying them ace/icon dollars.
So they waved goodbye to Glavine two different times — once when he went to the Mets as a big-buck free agent, a second time when they abruptly released him while he was trying to rehab from elbow surgery and make one final comeback in 2009.
Smoltz also had a testy exit in 2009, signing with Boston after essentially accusing the Braves of low-balling him. And that wasn't pretty, either.
Both left amid hurt feelings, deep regrets and a very unhappy fan base. And both times, it was Chipper Jones who spoke up to question how the Braves could let two men like that ride down the exit ramps. So now, as he imagines the script for his own final scene, his No. 1 priority is to make sure it's nowhere near as messy for either side.
"I saw it with Glavine," Jones says. "The Braves were caught between doing their job and not wanting to employ Tom Glavine anymore. They knew everything he'd done for the organization and for the city of Atlanta. And they knew people wanted to see him retire as a Brave. It put a lot of pressure on them. They ended up making a baseball decision, and it wasn't popular. Now I don't want them to have to do that with me."
So this winter, Jones sat down for a long conversation with the team's general manager, Frank Wren. Eventually, they agreed that neither of them knew how they'd feel in a year. So they promised each other that, at the end of this season, they would both be honest in telling the other how they felt.
"Chipper surprises me every once in a while with his thought processes," Wren laughs. "But the thing with him is, basically, he's just going to play it by ear. He's going to see how he feels and see how much he enjoys it and not paint himself into a corner until he knows for sure what he wants to do — which I think is a smart way to do it."
If that 2013 option were to vest, the decision about next year would, theoretically, be all Chipper's, not the Braves'. But Jones says he has already told Wren that "if my body is not going to allow me to do it on a consistent basis, I don't want them to keep me around for ceremonial reasons."
"

Halfway through this year, I could say, 'I'm done.' I wouldn't walk out on them in the middle of the year. But I'd have no problem saying that [it's time to retire at the end of the season].

"
— Chipper Jones
That's the way it ought to be, of course. And that's the way both sides would love it to be. But there's still the potential for this decision to take a more complicated turn than either of them envisions right now, as they soak in the soothing spring-training sunshine.
Suppose Chipper finds himself within reach of 500 homers next offseason? (He's only 46 away now.) Suppose he thinks he has a shot at 3,000 hits? (He's 385 shy at the moment.) Suppose his view of whether he can still "do it" is different than his team's?
"Well," he says, "if I go out and hit third all year, if I'm hitting in the middle of this lineup, it means somebody must think I can still be productive. That's the way I look at it."
So now he just has to go out and inspire his manager to keep writing his name in that 3-hole. And right this minute, in the fourth week of February, there is no reason to think that won't happen.
A year after he came limping into spring training trying to push himself back from knee surgery, Jones looks dramatically more loose and agile this spring.
"I feel as healthy," he says, "as I have in spring training in a long time."
Last spring, every day was "a measuring stick" to see how his surgically repaired right knee would respond to every conceivable baseball situation. Now, he's coming off a more normal offseason, "and you can see the difference," he says.
But he also recognizes that he won't feel so fresh or so gung-ho forever. So he has already begun to mull over whether he wants to work in the game after his countdown clock finally hits zero.
For a couple of years, he says, he just wants to chill, do some hanging with his family and leave the grind behind. But "once my wife gets sick of me," he chuckles, "then I could see myself jumping back in."
He's enough of a cerebral kind of guy that he has often been mentioned as managerial material. But Jones says: "I have no urge to manage whatsoever. I don't think I have the right temperament. … I don't think I could deal with the media, day in and day out. And I don't think I could delegate responsibility. I'd want to do it all myself."
What he could see himself doing, though, is being a hitting coach.
"I'm head over heels in love with the craft of hitting," he says. "If I have a specialty, it would be that. And that would probably be what I'd be best at."
But Chipper Jones' next life is a topic for some other time, some other spring. At the moment, he has a baseball season to get ready for — No. 19 as a Brave, if you're counting. Only one position player in history has ever played more seasons for the Braves than that. That would a gentleman named Hank Aaron.
The year Aaron turned 40, he hit 20 home runs — and passed some guy named Babe Ruth on the all-time home run list. Well, maybe there's nothing that historic on Chipper Jones' agenda this season. But he has another goal in mind.
"I'd love to put everyone's doubts to bed," he says, "that somebody 40 years old can't be productive, because I feel I can.
"I still feel," says Larry Wayne (Chipper) Jones, "like there's something left in the tank."
Jayson Stark is a senior writer for ESPN.com. His latest book, "Worth The Wait: Tales of the 2008 Phillies," was published by Triumph Books and is available in a new paperback edition in bookstores and online. Click here to order a copy.
Follow Jayson Stark on Twitter @jaysonst.
Stark: Jones can see that the end of his career is near
http://espn.go.com/mlb/spring2012/story/_/id/7622056/chipper-jones-see-end-career-near
http://sports.espn.go.com/espn/rss/mlb/news
ESPN.com – MLB
Latest MLB news from ESPN.com
http://a.espncdn.com/i/tvlistings/tv_espn_original.gif