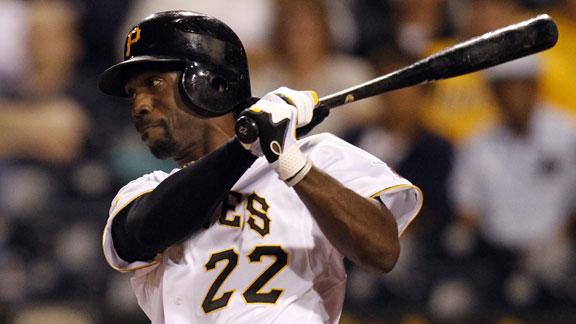 VIDEO PLAYLIST
BRADENTON, Fla. — It hasn't been just the losing that's hurt.
In Pittsburgh, the pain of these past 19 seasons has extended far beyond the standings. It has been felt in the old transactions column. It has shown up in the rumor mill. And it has hit home, especially in the good-byes.
In Pittsburgh, the Pirates have spent nearly two decades waving adios to folks such as Jason Bay. And Brian Giles. And Aramis Ramirez. And pretty much every other rising star who has passed through their midst.
Until now.
Until Andrew McCutchen came along — and decided to stick around a while.
And so, on a sun-splashed Tuesday in March, the Pirates' portion of the earth began spinning in a whole new direction:
Forward.
The Pirates' brightest young star since Barry Lamar Bonds won't be going anywhere now. Not for the next seven years at least, if all goes the way the Pirates' front-office dreamers have this show scripted.
[+] Enlarge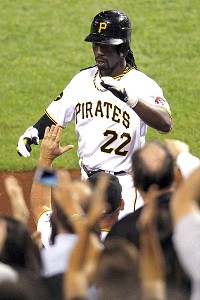 Justin K. Aller/Getty ImagesAndrew McCutchen will earn $4.5M in 2013, $7.25M in 2014, $10M in 2015, $13M in 2016 and $14M in 2017. The Pirates have a $14.75 million option for 2018 with a $1M buyout.
The second-largest contract in Pirates history is now official: six years, $51.5 million — with an option that could inflate this deal to seven years, $66.25 million. And it's all going to wind up in the bank account of a 25-year-old shooting star whose mission, now that he's chosen to accept it, is to strap this franchise on his back for a long, long time.
"It feels like a dream to me," Andrew McCutchen said at one point Tuesday.
"It was just meant to be," he said at another point.
"I'm definitely honored and humbled," he said at yet another point.
It was a beautiful thing. After all, when was the last time anybody uttered three sentences like that about being a Pirate? In, like, 1979?
Oh, all right. So it hasn't been that long. But as even the manager, the incessantly positive Clint Hurdle, admitted Tuesday, "Let's face it. For many years, we weren't the prettiest date at the prom."
But after all those choruses of "Last Dance," you could almost hear the backbeat of "Let's Get It Started" on this day. This, said Hurdle, was about "the right guy, at the right time."
Now Andrew McCutchen may not be Matt Kemp — yet. Heck, he probably isn't even Shane Victorino — yet. But that's OK.
According to Fangraphs, the only National League outfielders who were worth more wins above replacement than McCutchen was worth last season (5.7) were Kemp (8.7), Ryan Braun (7.8) and Victorino (5.9). And that was in a season this guy played at age 24.
So the question now, obviously, is where Andrew McCutchen goes from here. And when we posed that question to one longtime scout Tuesday, he didn't hesitate.
"What can't he do?" the scout replied. "Really. I don't know anything the guy can't do. He can run. He can hit. He's got power. He's a good defender at a premium position. And from what everybody says, he's a special person. That's the whole package right there."
It's the kind of package, in other words, that a small-market team is willing to bet $51.5 million on. And don't underestimate the deeper meaning of that bet.
It wasn't very long ago that the Pirates weren't willing to make this sort of commitment to the Jason Bays and Freddy Sanchezes of their world. You remember that, right? Well, the people who still root for this team sure remember.
Five years ago, the new regime around here — chairman Bob Nutting, team president Frank Coonelly and general manager Neil Huntington — grabbed the steering wheel of this gurgling ship. And one of the first things they did was spend the next year or so trading away pretty much everybody and everything that wasn't nailed down.
It wasn't a great formula for earning instantaneous love, faith and admiration. But it had to be done, Huntington said. And he's still convinced as ever that that was the way it had to be, even all these years later.
"I understand the trades that we've made, and how unsettling they've been," the GM said Tuesday. "But at that time, we were in a talent-accumulation phase. … We were a bad major league team with a bad farm system. And the best players on that bad major league team were nearing free agency. So we had a choice to make: to try to build around them or to try to utilize the value they had to get back the best we could get back."
So out the door flew one recognizable face after another. And the price they paid was that thousands of people who still admitted to being Pirates fans swore, after a decade and a half of losing, that this was it. They'd never bleed with this team again.
But then came the final uppercut to their kisser: In June of 2009, those dastardly Buccos turned around and even dealt away a guy they had sold as the one keeper on the roster, Nate McLouth, just months after signing him to a three-year, $14.5 million extension.
So if you could have sworn Tuesday, even after the McCutchen signing, that you could hear half the population of Squirrel Hill grumbling that they wouldn't believe Andrew McCutchen was a Pirate for life until they saw him in the Opening Day lineup in 2017, you couldn't blame them. But that was then, Huntington swore. And this is now.
"I understand the shock of the Nate McLouth trade," the GM said. "But it's apples and oranges, from our perspective. We are now well beyond the talent-accumulation phase. We're into the championship, major league team-building phase."
Not that they're trying to hoodwink anybody into believing that championship is coming this year. And it's a good thing, because, even after 19 consecutive losing seasons, this is a team that still has a long ways to go before you can look at the roster and truly believe it stacks up against the Reds, the Cardinals or the Brewers.
But two of Keith Law's top six pitching prospects in the whole sport — Gerrit Cole and Jameson Taillon — can be found in this system. So are three gifted outfield prospects: Josh Bell, Starling Marte and Robbie Grossman.
Now if Pedro Alvarez, the one-time No. 2 pick in the 2008 draft, can get his act together … and shortstop-of-the-future Chase d'Arnaud fulfills his promise … and second baseman Neil Walker can keep growing into a productive, switch-hitting energizer, you never know where this will lead.
And, to be honest, all that has to happen, because Andrew McCutchen can't turn this into the early '90s again all by himself.
"It takes time," Huntington said. "There's no turning a major league baseball organization around in one year. There's no LeBron James who comes in and saves your franchise. There's no Sidney Crosby who comes in and gets drafted, then goes from being the best amateur player to being arguably the best professional player in a year. Andrew McCutchen was in his fifth professional season before he made his major league debut. … It takes time. And it takes a greater number of players than it takes in the other sports."
So as much as this signing seems to make the 25-year-old center fielder the official face of this franchise, that isn't truly what the Pirates had in mind.
"We want our team to be the face of our franchise," the GM said. "Albert Pujols is the face of the Angels' franchise. But just about every other franchise in baseball has a lot of bright faces you can choose from. And that's our goal. We want a lot of great players for our fans to choose from as the guy they grab ahold of. No one player is going to carry us to a championship. We've got to put a great group of players on the field, and we've got to have a great support system behind them."
Had the Pirates not locked this guy up, oh, it wouldn't have been a catastrophe. They had him under control for four more seasons. They undoubtedly wouldn't have actively looked to trade him for another two years — maybe two and a half.
But realistically, McCutchen's contract status had become such a topic in the hills of western Pennsylvania that people had begun to frame this not just as a negotiation, but as a referendum on how serious the Pirates were — and are — about doing (and spending) what it takes to win.
So now that the deal is done, "it's a step forward," McCutchen said. "It shows people outside our organization that we're moving in the right direction. We're doing things the right way.
"We're different now," McCutchen said. "We're changing for the better. We made that statement, I think."
Now just because they signed the new cornerstone of their franchise, it doesn't exactly make them the Yankees. Or even the Brewers, for that matter. But at least this front office recognizes it can't try to fool anyone into thinking the Pirates are now something they're not. Their pockets haven't gotten that much deeper.
"We're still not going to be able to keep everybody," Huntington said. "I know people hate it when I say that. But that is the reality of every major league market, not just the smaller markets.
"The big factor," he said, "is keeping the right guys for the right terms."
So, on Tuesday, they rolled 51.5 million bucks worth of dice on the belief that Andrew McCutchen was that guy. And this time, it looks as though the star-crossed Pittsburgh Pirates got one right.
Jayson Stark is a senior writer for ESPN.com. His latest book, "Worth The Wait: Tales of the 2008 Phillies," was published by Triumph Books and is available in a new paperback edition, in bookstores and online. Click here to order a copy.
Follow Jayson Stark on Twitter @jaysonst.
Stark: Bucs bet on McCutchen
http://espn.go.com/mlb/spring2012/story/_/id/7652392/pittsburgh-pirates-bet-andrew-mccutchen
http://sports.espn.go.com/espn/rss/mlb/news
ESPN.com – MLB
Latest MLB news from ESPN.com
http://a.espncdn.com/i/tvlistings/tv_espn_original.gif