After Reggie Jackson's disparaging comments about Alex Rodriguez and others last week, he was essentially benched by the Yankees and told to stay away from team events indefinitely, according to AL sources.
[+] Enlarge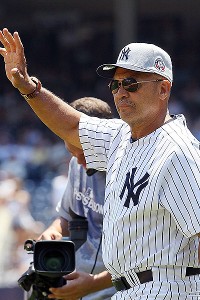 Jackson was not in Boston over the weekend, where the Yankees played the Red Sox.
Jackson, a special adviser for the Yankees, usually is around the team.
But at this time, there is enough anger at the Hall of Famer from within the organization that the team has decided that he should keep his distance until otherwise determined.
"A cooling off period, but not a death penalty," a source with knowledge of the team's thinking called it when speaking to ESPNNewYork.com's Andrew Marchand.
At some point, Jackson is expected to be back with the team, the source said.
Jackson spent Friday apologizing to Rodriguez and Yankees hierarchy, officials with knowledge of the conversations told ESPNNewYork.com last week.
Jackson contacted A-Rod, manager Joe Girardi and Yankees officials to apologize for the comments he made in last week's edition of Sports Illustrated. Rodriguez confirmed Jackson called him, but declined to reveal the nature of the talk.
"We're going to keep that very private," Rodriguez said Friday.
Rodriguez and Jackson have been friends for years, which caused the third baseman to joke about the comments.
"With friends like that, who needs enemies," Rodriguez said.
Information from ESPNNewYork.com's Andrew Marchand was used in this report.
ESPN Insider
Senior writer ESPN Magazine/ESPN.com
Reporter for ESPN Sunday Night Baseball
Author of "The Last Night of the Yankee Dynasty"
Sources: Reggie Jackson barred from Yankees
http://espn.go.com/new-york/mlb/story/_/id/8144460/reggie-jackson-barred-new-york-yankees-events-sources-say
http://sports.espn.go.com/espn/rss/mlb/news
ESPN.com – MLB
Latest MLB news from ESPN.com
http://a.espncdn.com/i/tvlistings/tv_espn_original.gif