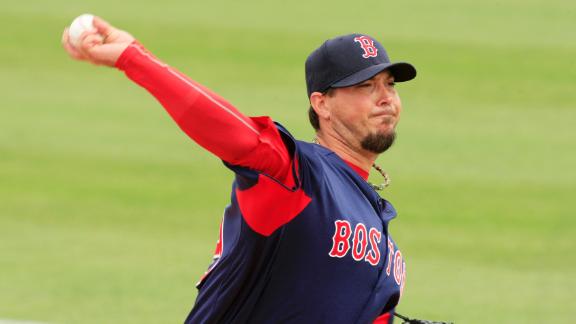 BBTN On Red Sox Pitching Staff
NEXT VIDEO
Boston Red Sox manager Bobby Valentine acknowledged Tuesday that closer Andrew Bailey likely will be out for "a while" with a thumb injury on his right pitching hand, leaving the team to fill a hole at the back of the bullpen with Opening Day looming.
Bailey is getting a second opinion on the injury from Dr. Thomas Graham in Cleveland and could undergo surgery later Tuesday if the doctor agrees with the initial diagnosis, a team source told ESPNBoston.com's Gordon Edes. Red Sox team doctors examined Bailey Monday in Boston.
"We're proceeding as if he's not going to be on the roster Opening Day," Red Sox general manager Ben Cherington said, according to the Boston Globe. "But until we get more information I won't speculate on what may or may not happen. It's clear he has an injury and we're still trying to figure out the best way we're going to deal with it."
Red Sox starter Josh Beckett is also in Cleveland getting his right thumb examined by Graham, a noted hand and wrist specialist who previously performed surgeries on Kevin Youkilis and Jarrod Saltalamacchia.
Beckett had his thumb examined Monday by Dr. Mark Bagg in San Antonio and wanted another opinion to ease his mind.
"The good news is the situations do not seem to be the same. The bad news is they don't seem to be the same," Valentine said with a wry smile, talking about the injuries to both pitchers. "One seems to be a problem and one seems not to be. Beckett is the latter."
Valentine said he fully expects Beckett to make his scheduled start Saturday. But asked whether Bailey could be out days, weeks or months, the first-year manager said: "Possibly all of the above."
He added that the second opinion could change the recovery timetable for Bailey.
Asked to describe the difference in the injuries, Cherington said: "[It] is different because we think it's more an of acute injury. We think it was suffered when he was in a collision in Bradenton [March 21]. He was covering first and collided with Alex Presley and fell.
"At the time, he didn't think anything of it, but he started to experience some soreness shortly after that and then went back and looked back at the video and he definitely landed on the thumb. He never had any thumb soreness before that. You never know for sure, but that's a possibility that's what did it. Any time you have more of an acute injury you have to get to the bottom of how bad it is and whether it can be managed conservatively or not."
Valentine didn't name an interim closer but said he envisioned one person would take the bulk of the save opportunities rather than employ a closer by committee. Valentine said he wanted to speak with the player before announcing it.
The candidates for the job would seem to be Mark Melancon, who closed for the Houston Astros last season or Alfredo Aceves. Daniel Bard, who was moved to the rotation, has been mentioned as a candidate to go back to the bullpen, but Cherington shot that down.
"[Bard] is going to pitch Game 5 in Toronto and we're committed to him as a starter right now," Cherington said, according to NESN.
Valentine said the closer's role "will evolve early in the season. I am confident we have pitchers that can get the final out of the game. It is just the rest of the (bullpen) that is a work in progress. I would be telling you something that was less than truthful if it was something we had prepared for. I like to think that we have a plan in place, that we have a person that we can single out for that (closer's) role, along with others who can do it when he is not available. That is how it was when Andrew was there."
Valentine said Monday that Beckett threw 100 pitches Sunday in a controlled bullpen session and "felt great."
It remains unclear how Beckett injured his thumb. Valentine said Beckett has "a little history with it," saying it's not a blister but "just a little situation."
Valentine also said he discussed the Opening Day roster with Cherington on the flight from Florida to Washington, D.C., Monday night.
"We had extensive meetings this morning with coaches and we're all pretty well set," Valentine said of the roster. He added that the roster would not be announced until the 11th hour.
Information from ESPNBoston.com's Gordon Edes and Rick Weber was used in this report.
Source: Red Sox's Bailey might need surgery
http://espn.go.com/boston/mlb/story/_/id/7769256/2012-spring-training-boston-red-sox-andrew-bailey-need-surgery-according-team-source
http://sports.espn.go.com/espn/rss/mlb/news
ESPN.com – MLB
Latest MLB news from ESPN.com
http://a.espncdn.com/i/tvlistings/tv_espn_original.gif