FORT MYERS, Fla. — Bobby Jenks was not just fearful that his career was in jeopardy, the right-handed reliever was terrified for his life last December.
[+] Enlarge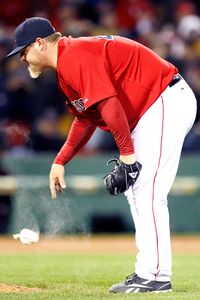 Jenks had surgery to remove bone spurs in his back on Dec. 12 at Massachusetts General Hospital and was back home in Phoenix a few weeks later when he noticed the incision in the middle of his back was leaking some kind of fluid.
The Red Sox pitcher bandaged it up himself and first thought nothing of it. But the problem didn't subside, so he visited a doctor and was rushed into emergency surgery on Dec. 30 to repair "a mistake" that Jenks said could have been a life-threatening situation.
"It was pretty serious," he recalled Thursday at training camp.
Jenks also was diagnosed with a pulmonary embolism last September, and because of that issue he had to wait until December to undergo back surgery. Leading up to the surgery, he was working out and trying to get as physically strong as he could so his body could handle the procedure.
But Jenks was not expecting to have two surgeries.
"I don't know whose fault it was, but there was an error done inside," he said. "I had four bone spurs on my spine and we talked about taking the top two out. The third one was started but not finished, so basically there was a serrated edge that sliced me open in two different spots and I was leaking spinal fluid. (The spur) pulled off the bottom of my incision and blew up on me, which caused an infection to climb up that incision and now I had an infection in my spine. It was a combination of 'everything that could have gone wrong went wrong.'
"If I didn't have it done immediately, the infection could have gotten into my spinal fluid and up to my brain, and who knows what could have happened then? I could not be here right now."
Jenks is clearly not as bulky as he was a year ago. Asked how much weight he has lost, he said: "Enough."
When he entered his first spring training with the Red Sox a year ago, Jenks weighed 275 pounds. He was limited to 19 games due to three separate stints on the disabled list, last pitching for Boston on July 7.
"The worst part about it was having the two surgeries so close together," he said. "Everything was barely healing and we had to slice through it all over again. The second one was very, very painful. After the first one, at the two-and-a-half-week mark, I was feeling great. Everything was on track to where it was supposed to be and then that happened. The second one, my muscles were all torn open and I was basically laid up in bed and couldn't function."
Jenks signed a two-year deal with the Red Sox worth $12 million as a free agent prior to the 2011 season and has not lived up to expectations due to his health issues.
"It's just so frustrating," he said. "Obviously coming here, I never expected I would have a season like this. I just feel bad that coming here as a free agent, deciding and choosing to come here, and this is what the team is getting from me right now is disappointing and frustrating."
He's basically starting from scratch.
"Obviously my winter didn't go very well, so I just got here a few days early just to get as much in as I can," Jenks said. "I'm starting the season on the (60-day) DL so I've got plenty of time to try to get myself as right as I can."
His name was on the team's daily schedule along with other rehabbing players, like John Lackey and Stolmy Pimental. Jenks is trying to strengthen the muscles in his back, but other than that it's all light workouts for now.
Red Sox manager Bobby Valentine recently described Jenks as being a possible midseason addition if he's able to regain his major league form.
"I'm very hopeful," Jenks said. "I'm hoping the second surgery went well and it's going to take. There's nothing I can do now but be here, rehab and try to do everything I can to be out there."
Jenks hasn't picked up a baseball since last season, but he's hoping to be back on a major league mound at some point this summer.
Joe McDonald covers the Red Sox for ESPNBoston.com.
Follow Joe McDonald on Twitter: @espnJoeyMac
Red Sox's Jenks had life-threatening back issue
http://espn.go.com/boston/mlb/story/_/id/7606198/boston-red-sox-bobby-jenks-feared-life
http://sports.espn.go.com/espn/rss/mlb/news
ESPN.com – MLB
Latest MLB news from ESPN.com
http://a.espncdn.com/i/tvlistings/tv_espn_original.gif