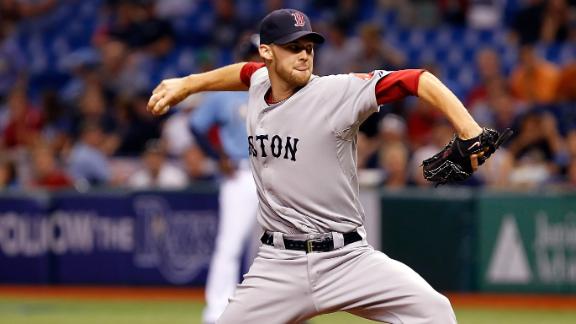 NEXT VIDEO
FORT MYERS, Fla. — The great Boston Red Sox pitching mystery has been solved. Or has it?
Red Sox manager Bobby Valentine said Sunday morning that the starting rotation is set, with Felix Doubront securing the No. 4 spot and Daniel Bard beating out Alfredo Aceves for the last spot.
But Valentine's reasoning for selecting Doubront and Bard over Aceves creates more questions than answers, and Valentine fielded plenty of them from reporters after indicating that Aceves has greater value in the bullpen.
Valentine said he is "a little" uncomfortable with the end of the bullpen and there "might be a health situation" that could result in a reliever being put on the disabled list. He also said that the final roster spot might go to a pitcher.
Asked if surgery might be necessary on the mystery player, Valentine put his finger in his mouth and pretended to gag. Valentine didn't specifically mention anyone, but closer Andrew Bailey has pitched just one inning in the past 10 games. According to multiple reports, Bailey is dealing with an injury to his right thumb.
"If I answer that the way I should answer that, you'll be confused," Valentine said, "because you don't have all the information, and I don't know that I can give you all the information."
Valentine added that he does not expect the Red Sox to make any moves outside of the organization to shore up the issue.
Red Sox Spring Training Central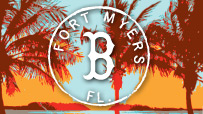 Complete coverage from our team in Fort Myers. Spring Training Center »

• Sox blog: Latest from the Fort »
He said he's very comfortable with the decision on the rotation, other than the fact that he had to give Aceves news he didn't want to hear.
"He talked to you guys the day before and expressed his desire, his life's dreams," Valentine said of Aceves. "I like to be a dream-maker, not a dream-breaker. He wasn't happy about it. I told him he has a very, very important role on our team. I think he's one of the best pitchers in camp. Trying to figure out where it is we need him most is a very difficult, perplexing problem."
Valentine said he has not yet decided on the composition of the bullpen, but he could "very easily" envision using Aceves, who had four starts among his 55 appearances last season, at the end of games.
"He didn't lose the (starting) job," Valentine said. "It's just that when we look at the situation with this team, he has incredible value, not being locked down."
Doubront, 24, started three games for the Red Sox in 2010 (1-2, 4.11 ERA) and split the rest of his time between Double-A Portland and Triple-A Pawtucket, going 8-3 in 17 starts. He has been very sharp this spring, going 1-0 with a 2.70 ERA while giving up one home run in 16 innings.
Doubront is slated to get his first start in Toronto on April 9.
"It was awesome to hear the news from the manager," Doubront said. "For me, that's what I've looked forward to all spring and when I started the offseason — to hear that news. Pretty amazing."
"I was in shock," Doubront said of his reaction to getting the word from Valentine. "That's all he said: 'Great job and great spring training,' and I win the spot."
"Felix, I think, had the best spring of everyone obviously, if you just went on results," Valentine said. "But he has also progressed the way we hoped he would progress physically and mentally to the point where we think he could be a very good major-league starting pitcher."
Bard, who is being slotted at No. 5 to avoid left-handers Doubront and No. 1 starter Jon Lester pitching back-to-back, hasn't started a game since 2007, when he had a 6.42 ERA in 17 starts for Class A Greenville.
Although he has a devastating fastball among three effective pitches and has been impressive as a setup man — particularly in 2010, when he had a 1.93 ERA and 76 strikeouts in 74 2/3 innings — there is no way to be sure he'll be durable enough to handle the starting role.
"But there's no limit on it right now," Valentine said of the number of innings Bard could go as a starter.
Bard had a 6.57 ERA in six spring appearances, walking 16 and striking out 18 in 24 innings. Judging strictly on that, he wouldn't have gotten one of the starting spots. But Bard believes the Red Sox were committed to making him a starter, and he wanted to be a starter, even though he says he would have been OK if he had been sent back to the bullpen.
"I think going into it, they knew there would be an adjustment period because I haven't done this in so long," he said. "I'm honored they stuck by me. (General manager Ben Cherington) said in our first meeting this spring, 'We want this to work. We're not stupid. We know there's going to be some ups and downs.' That's kind of what happened.
"I think the biggest thing they saw is that I got a little bit better in each outing and got more comfortable. I feel like I didn't back down from it at all. Even after giving up seven runs in an outing, I didn't back down from it. I think that's the big thing they wanted to see."
In looking further at the composition of the pitching staff, it seems Aaron Cook, who will pitch Monday against the Nationals, is not a candidate for the bullpen, which means he figures to start the season at Triple-A Pawtucket. Said Valentine, "(Pitching coach Bob McClure) seems to know him the best and doesn't think his shoulder would respond well to that demand at this time."
The Red Sox also announced that catcher Ryan Lavarnway was optioned to Pawtucket, leaving Jarrod Saltalamacchia and Kelly Shoppach to handle duties behind the plate.
Rick Weber is a special contributor to ESPNBoston.com.
Red Sox will use Bard, Doubront in rotation
http://espn.go.com/boston/mlb/story/_/id/7761872/2012-spring-training-boston-red-sox-use-daniel-bard-felix-doubront-rotation
http://sports.espn.go.com/espn/rss/mlb/news
ESPN.com – MLB
Latest MLB news from ESPN.com
http://a.espncdn.com/i/tvlistings/tv_espn_original.gif