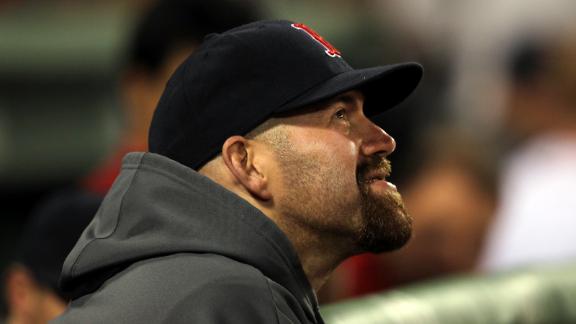 NEXT VIDEO
BOSTON — The Boston Red Sox have traded infielder Kevin Youkilis to the Chicago White Sox for utilityman Brent Lillibridge and right-hander Zach Stewart.
The AL Central-leading White Sox, who also receive cash in the deal, have been looking for a third baseman with Brent Morel plagued by back problems.

Youkilis
ESPN The Magazine's Buster Olney is reporting the Red Sox will pick up all but $2 million of what is owed to Youkilis. The Red Sox will pay the White Sox $5.5 million, according to ESPNChicago.com's Bruce Levine.
"There is no way we are not a better team with Kevin Youkilis," White Sox captain Paul Konerko said. "He is just too good of a player and has been through all the wars and is still relatively a young guy. We just have to keep him on the field. If that is the case, it could be one of the bigger steals of the season."
Will Middlebrooks' emergence in Boston made Youkilis expendable after a successful 8½-year run with the Red Sox. The versatile All-Star, who can play both of the corner infield spots, is a career .286 hitter with 133 homers and 563 RBIs.
The 25-year-old Stewart is 1-2 with a 6.00 ERA in 18 games with the White Sox this season. Lillibridge, 28, is hitting .175 with two RBIs and seven stolen bases in 48 games.
Youkilis has been hampered by a variety of injuries the last three seasons. He missed three weeks earlier this season with back discomfort and was limited to 120 games in 2011 and 102 games in '10.
"We were given a good bill of health on him," White Sox general manager Kenny Williams said. "He said he hasn't felt this good physically for a long time. He said he is very excited to join our club and he has a little bit of edge to him, which I like. I can't tell you exactly what he said, but he wants to come in and prove some people wrong."
Youkilis, who had been held out of the lineup for three straight days, started at third base and hit sixth Sunday against the Atlanta Braves. When he left the game for a pinch runner after hitting a triple in the bottom of the seventh inning, he received a long standing ovation, blew a kiss to the sellout crowd at Fenway Park and hugged his teammates.
At the strong urging of manager Bobby Valentine, with whom Youkilis has had some public disagreements, Youkilis came out for a curtain call. Youkilis also received a standing ovation when he came to bat in the bottom of the second inning.
More On The Red Sox

Gordon Edes and the rest of the ESPNBoston.com team have the Red Sox covered for you. Blog

Prior to the bottom of the seventh, Red Sox GM Ben Cherington told Valentine in the tunnel from the dugout to the clubhouse that there was a "situation pending." As Youkilis stepped to the on-deck area, Valentine informed the players in the dugout of the situation.
Youkilis finished the game 2-for-4 and was 6-for-14 in his last four games with the Red Sox. He leaves Boston with a .287 career average and 133 home runs in 953 career games. He was a member of the 2004 and '07 championship teams, a three-time All-Star and a Gold Glover at first base.
His departure leaves David Ortiz as the only member of the 2004 championship team still with the Red Sox.
The impact that Youkilis had on the organization goes beyond the numbers and accolades, as evidenced by the reaction that the fans gave him and the way his teammates talked about him in a clubhouse now void of one of its leaders.
"He pushes me every day, and I want to go out and play hard every day just like he does," said Dustin Pedroia, who was the first player after pinch-runner Nick Punto to greet Youkilis. "You know, he's always out there doing his best to try to help us win. I appreciate him so much for that."
Punto said his moment with Youkilis was not planned, but a natural occurrence when the emotion started to spill all around Fenway.
"I know how much blood, sweat and tears he has poured into this organization," said Punto, who has been friends with Youkilis for years. "That just happened. It was a pretty cool moment for me, too."
ESPNChicago.com White Sox blog


The latest news and notes on the White Sox. Blog
The moment brought Red Sox players pouring from the dugout to greet Youkilis before he hit the top step.
"It brought a tear to my eye," Cody Ross said. "To see him run off and tip his hat and have tears in his eyes. It was just a special time. I know how much he means to this city. Two World Series here. Played his heart and soul out every day. Just a great teammate. I'm going to miss him."
After his curtain call, Youkilis waved once more to the crowd before disappearing down the tunnel to the clubhouse for the last time as a member of the Red Sox.
I said, 'OK, we'll do it the right way,'" Valentine said of his reaction to Cherington's words. "Someone was looking down because that was the perfect way to end it."
Stewart was scratched from his start for Triple-A Charlotte. The right-hander went 1-2 with a 6.00 ERA in 18 games — one start — for the White Sox before a demotion within the last week. A former third-round pick by Cincinnati, he was shipped to Toronto in 2009, and then to Chicago last year in the deal that sent Edwin Jackson to the Blue Jays, who then shipped Jackson to St. Louis.
In 31 games and 12 starts in the majors, Stewart is 3-8 with a 5.92 ERA.
Lillibridge entered Sunday batting just .175 with two home runs. However, he had 13 homers last season and does have some speed, having stolen seven of nine bases in 2012. The 28-year-old has played every position except catcher in his career.
"It's part of the business," Lillibridge said of the trade. "You never expect that's going to be you in a trade like that. I'm excited. At the same time I love playing here. I enjoyed it so much, the guys here and the fans. I'm going to miss this place a lot. It's dear. I've been here a long time. I'm excited, though, to see personally where my career will go and to help the Red Sox. But it's tough. It's always tough."
Tony Lee is a regular contributor to ESPNBoston.com. Information from The Associated Press, ESPN The Magazine's Buster Olney and ESPNChicago.com's Bruce Levine was used in this report.
Red Sox trade veteran 3B Youkilis to White Sox
http://espn.go.com/mlb/story/_/id/8091584/kevin-youkilis-traded-boston-red-sox-chicago-white-sox
http://sports.espn.go.com/espn/rss/mlb/news
ESPN.com – MLB
Latest MLB news from ESPN.com
http://a.espncdn.com/i/tvlistings/tv_espn_original.gif