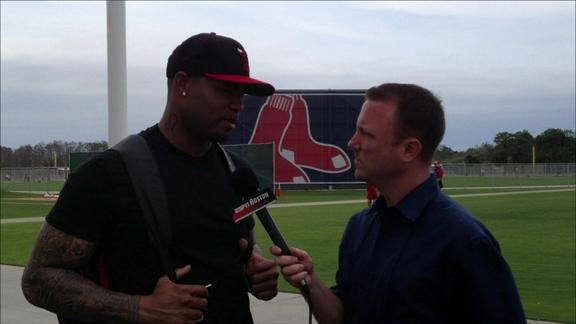 Crawford: 'I Was Down For A Little Bit'
VIDEO PLAYLIST
FORT MYERS, Fla. — Boston Red Sox owner John Henry apologized to outfielder Carl Crawford on Saturday for a comment he made during the offseason about initially being against his signing.
Henry and Crawford met privately after a morning workout.
"He was very apologetic and he seemed sincere," Crawford said. "We both agree to put everything behind us and that's all you can do."
Henry had made the remark during a radio interview on 98.5 The Sports Hub in late October, pressing the point that he tries to stay out of baseball decisions.
Henry was asked whether the signing of Crawford to a seven-year, $142 million contract was more of a PR signing than a baseball move. Henry was adamant that it was a baseball move, one he initially was against.
"In fact, anyone involved in the process, anybody involved in upper management with the Red Sox would tell you that I personally opposed [the Crawford signing]," Henry said at the time. "Why? Because we had plenty of left-handed hitting. I don't have to go into why. I'll just tell you that at the time, I opposed the deal."
On Saturday morning, Henry said he regretted saying it.
"I should have never made those comments. It was an off-the-cuff remark that I shouldn't have made, so when I see him I'm going to apologize to him for it," Henry said.
When asked to give his explanation for the comment, the Red Sox owner dismissed the question.
"I don't want to go through it again," Henry said. "I explained it and people seem to not want to hear the explanation."
When Crawford arrived at camp earlier this week, he said Henry's remark had bothered him.
"I can't do nothing about what he said, just go out and play," Crawford said. "It was unfortunate that he said that. I wasn't happy about it, and a little surprised. It's unfortunate he feels that way. Wish those words hadn't came out."
Saturday was not Henry's first public reaction to Crawford's statements. He sent the following text to The Boston Globe:
"Again, this wasn't about Carl. At the time I was opposed due to too many lefties in the lineup and particularly in the outfield. Also, our two best prospects were lefthanded hitters. My answer was an honest, off-the-cuff response on a radio station to a false assertion that ownership signed him for offseason PR purposes. This was a baseball decision I ultimately backed."
Red Sox DH David Ortiz was happy that Henry and Crawford met to resolve the matter.
"I think that was great," Ortiz said. "I don't blame either of them. I don't blame Mr. Henry. I don't blame CC. I think Mr. Henry was getting a lot of pressure from everywhere, a lot of heat. I don't want to be in his shoes, but I think he did the right thing coming in and talking to CC and everybody getting on the same page because that's what we're looking for right now. We want everyone on the same page, turn the page and move on."
Crawford, who had surgery on his left wrist in early January, believes there's a strong possibility he could be ready for Opening Day. He has steadily increased his cage work the last few days, and on Saturday afternoon, he took 35 swings and said he felt good afterwards.
"I was able to swing the bat very aggressively and it's just putting me another day towards my goal and that's to make the Opening Day lineup," he said. "I felt good about where I was at today and hopefully I can get better."
Henry was among the three principles in the Red Sox ownership group who spoke Saturday.
Calling 2012 "a new chapter," the group said it plans to be more present this season as the team looks to rebound from last September's historic collapse.
Henry, Larry Lucchino and Tom Werner also addressed the team before the first full-squad workout of the spring.
Henry said he has spoken with Terry Francona, who was replaced as manager by Bobby Valentine this offseason.
All three owners tried to dispell any notion the team is cutting costs.
"The discussion seems to be centered around (the idea that) we're not spending enough money," Henry said. "We have the second-highest payroll in baseball. How are we done (spending)? This year, 2012, we have the second-highest payroll. Does that mean we're not spending?"
Lucchino said the franchise collectively "has something to prove in 2012" and is not done spending on its roster.
"Maybe we should be direct about this: Our payroll is going to be in the $190-plus million range," Lucchino said. "I'm pretty confident in saying that if you look at it the way we do, you'll see that. That's a gigantically large commitment because there's a gigantically large commitment to winning in this organization. If we haven't proven that to you in 10 years, shame on us."
When it was noted by reporters that the Red Sox had spent relatively little in this offseason and the payroll was the result of pre-existing contracts, Henry said : "If pre-existing contracts get you to a certain point, it's hard to go beyond a certain point. Every year, we have a budget, and every year we go over our budget. Are we prepared to go over budget? Yes, if the right situation presents itself. It (luxury tax) is going to be a bigger issue every year as we move forward."
Lucchino said he anticipated the club may exceed the luxury tax threshold again this season.
"We've paid the tax before and we're paying the tax this year," Lucchino said. "We're aware that can be part of doing business. Ben is aware of that."
Henry did say that because of changing baseball economics, the club will be more discretionary in its spending.
"It's an advantage to have a big payroll with a small-market mentality, so I think we have to be more careful about how we spend our money, so we will be," Henry said.
Henry also took exception to the perception that he has neglected the Red Sox at the expense of his Liverpool soccer team.
"With us every day is about baseball," he said. "We have other things, too, but every day is baseball. I think we speak 365 days a year, maybe 364, but virtually every day there's something related to baseball."
Joe McDonald covers the Boston Red Sox for ESPNBoston.com. Information from ESPNBoston.com's Gordon Edes and The Associated Press was used in this report.
Follow Joe McDonald on Twitter: @espnJoeyMac
Red Sox owner Henry apologizes to Crawford
http://espn.go.com/boston/mlb/story/_/id/7614424/boston-red-sox-owner-john-henry-apologizes-carl-crawford
http://sports.espn.go.com/espn/rss/mlb/news
ESPN.com – MLB
Latest MLB news from ESPN.com
http://a.espncdn.com/i/tvlistings/tv_espn_original.gif