BOSTON — Johnny Pesky, who spent most of his 60-plus years in pro baseball with the Boston Red Sox and was beloved by the team's fans, has died. He was 92.
Pesky died Monday at the Kaplan Family Hospice House in Danvers, Mass., northeast of Boston, according to Solimine, Landergan and Richardson funeral home in Lynn. The funeral home did not have a cause of death.
Pesky debuted for the Red Sox as a 22-year-old shortstop in 1942 and has been with the organization in some capacity virtually every year since. He played eight seasons in Boston, giving up three years of his early career to serve in the military during World War II.
[+] Enlarge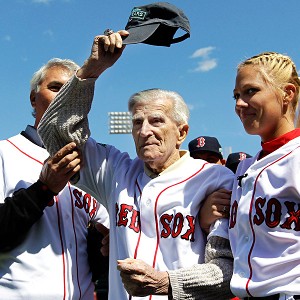 He was a lifetime .307 hitter over 10 major league seasons and was teammates with Hall of Famers Ted Williams and Bobby Doerr.
The right-field foul pole at Fenway Park bears his name and his No. 6 was retired by the Red Sox in 2008.
"All of Red Sox Nation mourns the loss of 'Mr. Red Sox,' Johnny Pesky," Boston mayor Thomas Menino said. "He loved the game and he loved the fans — and we loved him. His dedication to the sport and his passion to improve the game through the mentorship of young players will be sorely missed. Our hearts go out to the Red Sox organization and all of Johnny's family and many friends."
Pesky is also featured in a bronze statue outside Fenway unveiled in June 2010 that depicts him alongside Williams, Doerr and Dom DiMaggio. The quartet shared a special camaraderie that was featured in David Halberstam's book, "The Teammates: A Portrait of a Friendship."
"Ted, Dom and Bobby have been my closest friends since my rookie year in 1942," Pesky said when the statue was introduced. "I have had some great times with them, and I am glad that thanks to the Red Sox, our friendship will now be remembered forever in the form of this statue."
Pesky served the Red Sox in a number of capacities over the years, including player (1942; 1946-52), manager (1963-64; 1980), coach, TV and radio commentator and, most recently, ambassador. As late as a few years ago, he was still hitting fungoes to Red Sox players at spring training.
Pesky is recognized throughout New England as the personification of the Red Sox, having signed countless autographs over the years and taken photos with virtually every fan who asked.
Pesky appeared at Fenway Park on April 20 when the Red Sox celebrated the 100th anniversary of the ballpark. The team invited all its former players back, and Pesky was moved to tears at the pregame ceremony.
"I've had a good life with the ballclub," Pesky told The Associated Press in 2004. "I just try to help out. I understand the game, I've been around the ballpark my whole life."
Until the past several years, he seemed ever present at the Red Sox spring training camp in Fort Myers, Fla., and at Fenway, where he always had a few minutes to chat with fans and still had knowledge to impart to players well into his 80s.
Fenway's Century Club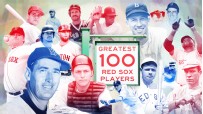 Our look back at 100 years of Fenway includes a ranking of the 100 Greatest Red Sox Players.
Top 50

| 51-100 | Your Rankings
100 Greatest Moments at Fenway
Though Pesky was a favorite of generations of players and fans, he still had his own place of notoriety in Red Sox history, a place that many think is undeserved.
Pesky was often blamed for holding the ball for a split second as Enos Slaughter made his famous "Mad Dash" from first base to score the winning run for the St. Louis Cardinals against the Red Sox in Game 7 of the 1946 World Series.
With the score tied 3-3, Slaughter opened the bottom of the eighth inning with a single. With two outs, Harry Walker hit the ball to center field. Pesky, playing shortstop, took the cutoff throw from outfielder Leon Culberson, and according to some newspaper accounts, hesitated before throwing home. Slaughter, who ran through the stop sign at third base, was safe at the plate, and the best-of-seven series went to the Cardinals.
Pesky always denied any indecision, and analysis of the film appeared to back him up, but the myth persisted.
"In my heart, I know I didn't hold the ball," Pesky once said.
Born John Michael Paveskovich in Portland, Ore., Pesky first signed with the Red Sox organization in 1939 at the urging of his mother. A Red Sox scout had wooed her with flowers and his father with fine bourbon. His parents, immigrants from what is now Croatia, didn't understand baseball, but they did understand that the Red Sox were the best fit for their son even though other teams offered more money.
He played two years in the Red Sox minor league system before making his major league debut in 1942.
That season he set the team record for hits by a rookie with 205, a mark that stood until 1997 when fellow Red Sox shortstop Nomar Garciaparra, with whom he became very close, had 209. He also hit .331 his rookie year, second in the American League only to Williams, who hit .356.
More On The Red Sox

Gordon Edes and the rest of the ESPNBoston.com team have the Red Sox covered for you. Blog

Pesky spent the next three years in the Navy during World War II, although he did not see combat. He was back with the Red Sox through 1952, playing with the likes of Williams, Doerr and DiMaggio, before being traded to the Detroit Tigers.
Pesky spent two years with the Tigers and Washington Senators before starting a coaching career that included a two-year stint as Red Sox manager in 1963 and 1964. He came back to the Red Sox in 1969 and stayed there, even filling in as interim manager in 1980 after the club fired Don Zimmer.
The right-field foul pole at Fenway Park, just 302 feet from home plate, is named the Pesky Pole in his honor even though Pesky hit just 17 homers in his career, six at Fenway Park. The term was coined by former Red Sox pitcher Mel Parnell, who during a broadcast in the 1950s, recalled Pesky winning a game for him with a home run around the pole.
That tale, much like the Pesky "held the ball" story, appears to be a myth because team records show that Pesky never hit a home run at Fenway in which Parnell was the winning pitcher.
Pesky is survived by a son, David. His wife, Ruth, whom he married in 1944, died in 2005.
Information from ESPNBoston.com's Joe McDonald and The Associated Press was used in this report.
Red Sox legend Pesky, .307 hitter, dies at 92
http://espn.go.com/boston/mlb/story/_/id/8266048/boston-red-sox-player-ambassador-johnny-pesky-dies-92
http://sports.espn.go.com/espn/rss/mlb/news
ESPN.com – MLB
Latest MLB news from ESPN.com
http://a.espncdn.com/i/tvlistings/tv_espn_original.gif