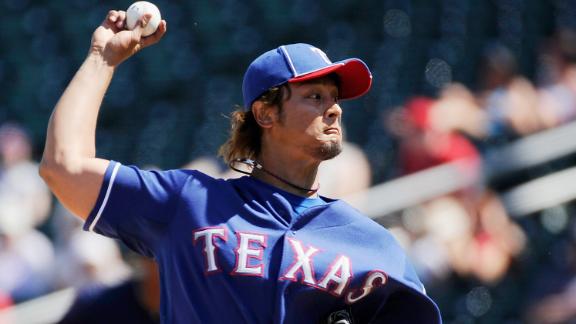 NEXT VIDEO
SURPRISE, Ariz. — Texas Rangers starting pitcher Yu Darvish will make his major league debut against Ichiro Suzuki and the Seattle Mariners on April 9 at Rangers Ballpark in Arlington.
The Rangers announced the order of their rotation Thursday and decided not to break up left-handed pitchers Derek Holland and Matt Harrison, which means those two will follow Colby Lewis with Darvish slotted in the No. 4 spot and Neftali Feliz rounding out the five-man rotation.
That sets up Darvish for the Monday night start in Texas, followed by his first road start in Minnesota five days later. He is likely to face the New York Yankees in Texas that first month.
More on the Rangers

Richard Durrett and the ESPNDallas.com team have the inside scoop on the Rangers, the American League and Major League Baseball. Rangers Blog » | ESPN Dallas »
Rangers Spring Training Home »
"Wherever and whenever I'm told to pitch, I'll just do my best," Darvish said through a translator. "That's all I am thinking about right now."
The club could alter the rotation at some point using off days to break up the left-handed starters. But the Rangers won't do it as the season begins.
Rangers manager Ron Washington was asked his thoughts on Darvish facing Suzuki in the club's first AL West game of the season.
"Just get him out," Washington said. "Ichiro is one of the better players in the American League. Darvish is going to be trying to establish himself as one of the better pitchers, so it should be a good matchup. But it's not Darvish against Ichiro; it's Darvish against the Seattle Mariners."
Darvish, 25, makes his final start in the Arizona desert on Friday night in Scottsdale, Ariz., against the Colorado Rockies. He's likely to go six innings and push his pitch count toward 100 pitches. Darvish will then dial it back to a few innings in his final tune-up next Wednesday in Frisco against the Rangers' Double-A squad before making his first regular-season start.
Darvish has thrown 15 innings in Arizona — in Cactus League, minor league and intrasquad games — and has given up seven runs on 12 hits with 10 walks and 21 strikeouts. Darvish has impressed scouts with the movement on his breaking pitches and his consistent delivery.
Washington expressed confidence in his young 2012 rotation.
"We have some unknowns, but those unknowns are very talented," Washington said. "I feel comfortable that they'll go out there and keep us in ballgames. That's the bottom line."
Lewis, the veteran of the staff, makes his first Opening Day start after posting consecutive 200-inning seasons after returning from a successful two-year stint in Japan. Lewis was 14-10 with a 4.40 ERA in 2011 and has been the club's best postseason pitcher the past two years. Lewis has four wins in eight playoff starts, posting a 2.34 ERA. He won Game 6 of the ALCS in 2010, sending the Rangers to the franchise's first World Series.
"He's a veteran and dependable," Washington said. "You know what you're going to get."
Holland is one of the club's young guns, fresh off a new contract worth $28.5 million over five years with two club options. He was 16-5 with a 3.95 ERA a year ago, including a phenomenal second-half stretch.
Starting on July 7, the 25-year-old went 10-1 with a 2.77 ERA over his final 15 regular-season starts.
Harrison, 26, finally showed he belonged in the rotation. He had made the staff out of spring training the two previous years but didn't have staying power. In 2011, Harrison became a consistent performer, going 14-9 with a 3.39 ERA with 126 strikeouts and 57 walks in 30 starts (185 2/3 innings).
Feliz is making the transition to starter in 2012 after two years as the closer. The signing of Joe Nathan in the offseason enabled the Rangers to shift Feliz to the rotation, where he'll need to develop his secondary stuff. Feliz experienced some tightness in his shoulder last week, but has felt better and threw 68 pitches in a minor league game on Tuesday and expressed confidence he'd be ready for the season. He also felt good following a bullpen session on Thursday.
Washington informed Scott Feldman and Alexi Ogando that they would be starting the season in the bullpen. Feldman won 17 games in 2009 — the only starting pitcher in camp to boast that many wins in one big league season — and Ogando is the only All-Star of the group.
Yet with the depth of the rotation, both are relievers as 2012 begins.
"They're disappointed, and they should be," Washington said. "Fortunately for the Texas Rangers, we have depth. Those two guys could start in probably just about any rotation in baseball. But they are also part of a winning organization and now become a big part of a winning bullpen. Their talents and their skills can be used to help us continue to succeed."
The Rangers have about 20,000 tickets remaining for Monday's game, which Darvish is starting. Tickets are expected to sell quickly and can be purchased on the team's website, by phone or in person at Rangers Ballpark in Arlington.
ESPNDallas.com
Rangers set rotation; Darvish to open vs. M's
http://espn.go.com/dallas/mlb/story/_/id/7753063/texas-rangers-tap-yu-darvish-no-4-pitcher-rotation
http://sports.espn.go.com/espn/rss/mlb/news
ESPN.com – MLB
Latest MLB news from ESPN.com
http://a.espncdn.com/i/tvlistings/tv_espn_original.gif