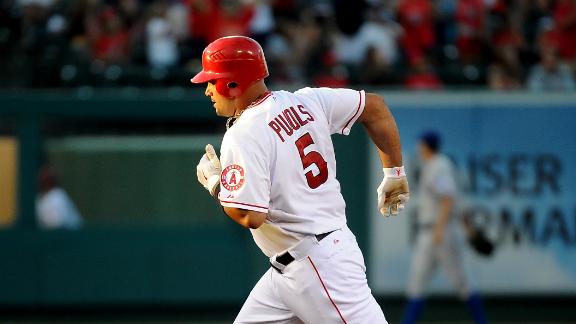 Angels Take Series With Rangers
NEXT VIDEO
ANAHEIM, Calif. — Texas Rangers manager Ron Washington thinks it's time to tap the brakes on the comparisons being made of Los Angeles Angels rookie outfielder Mike Trout.
Olney: Searching For Trout's Flaw

The run Mike Trout is currently on is unprecedented for any big league player, let alone a rookie. As Buster Olney writes, teams are having a hard time finding flaws in Trout's game. Blog

"He's not Willie Mays," Washington said after the Angels beat the Rangers 7-4 on Sunday night. "He's a pretty good player, but I think the comparisons have to stop. Let the kid play. When he's been here five years, six years, then you can start doing that."
Trout, who leads the American League in batting (.357), runs (70) and steals (31), went 5-for-10 with a home run and a triple in the three-game series against the Rangers, walking three times and scoring four runs.
Rangers starter Matt Harrison tried sneaking a 3-and-1 fastball past Trout to open the game, but the 20-year-old phenom clearly wasn't up there looking to walk. Trout lined a triple to the right-field corner and scored on Albert Pujols' ground-rule double, crossing the plate for the 14th consecutive game — tying the AL rookie record and setting an Angels franchise mark, previously set by Jim Edmonds in 1995.
His 70 runs scored also are an AL rookie record, breaking a mark that had been shared by Jake Powell (Washington Senators, 1935) and Don Lenhardt (St. Louis Browns, 1950).
"When we have Trout on base, there's a pretty good chance that we're going to score," Pujols said.
Trout, who turns 21 in August, is trying to become the third-youngest player to win a batting title going back to 1900, trailing only Al Kaline and Ty Cobb, who both won batting titles at age 20.
ESPN Stats and Information and The Associated Press contributed to this report.
Reporter, WeAreSC.com
Covers USC recruiting
Covered high schools for ESPNLA.com
Joined ESPN in 2010
Rangers manager: Trout is no Willie Mays
http://espn.go.com/dallas/mlb/story/_/id/8191495/mike-trout-no-willie-mays-ron-washington-says
http://sports.espn.go.com/espn/rss/mlb/news
ESPN.com – MLB
Latest MLB news from ESPN.com
http://a.espncdn.com/i/tvlistings/tv_espn_original.gif