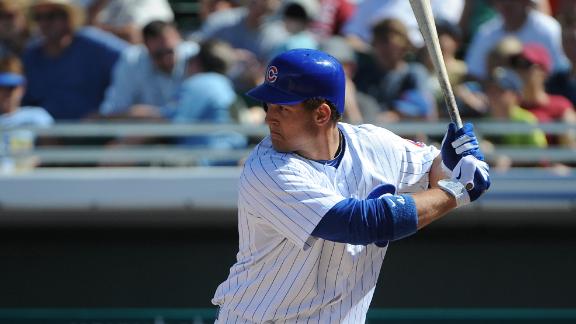 Rizzo to Make Cubs Debut Tonight
NEXT VIDEO
CHICAGO — The future has a permanent grin and a memory bank that should make this transition to the major leagues much better than the last one.
ESPNChicago.com Cubs blog


The latest Cubs news from ESPN Chicago. Blog
The Chicago Cubs made official Tuesday what widely was reported one day earlier, that Anthony Rizzo is on the major league roster after a nearly three-month wait filled with promise, hype and some of the best offensive numbers at Triple-A.
"I'm here to stay," Rizzo said before the Cubs hosted the New York Mets. "I'm just going to work hard every day, learn, get better, go through the ups and down of a baseball player, the nicks and bruises."
To make room on the roster, Adrian Cardenas was optioned to Triple-A Iowa.
Despite Rizzo's gaudy numbers at Triple-A for a second consecutive season, nobody is expecting this to be a seamless transition, not even Rizzo. The idea, though, is that he develops into a cornerstone that Cubs teams of the near future can be built around.
As of now, the club's core group would appear to include Starlin Castro and Jeff Samardzija, along with Rizzo. Success isn't guaranteed, though, and the club's newest addition wouldn't have it any other way.
He said his struggles last season during a 49-game call-up with the San Diego Padres was both humbling, but possibly one of the best learning experiences he endured.
"I think a lot's different," said Rizzo, who batted .141 with one home run and nine RBIs in 128 at-bats with the Padres. "I'm a year older, a year more mature. A lot of people think it's funny that I say that because I'm just a little kid at heart, but I know a lot of these guys in the clubhouse now."
Rizzo's promotion Tuesday is the perfect storm for a fan base desperate for something to wrap its arms around. Forget the club's World Series drought, just the simple fact that the Cubs already are 23 games under .500 has created an anticipation for his arrival.
He was batting .342 at Iowa with 23 home runs and 62 RBIs in 70 games and will join a team that ranks 11th in the National League in batting average at .245, 12th in home runs with 59 and 13th in RBIs with 253.
The most buzz-worthy factor when it comes to Rizzo is he represents the hopes of a better future maybe even more than Castro does.
The Cubs are in the midst of a rebuilding project behind president of baseball operations Theo Epstein and general manager Jed Hoyer and Rizzo is one of their hand-picked talents to turn around the team's fortunes.
The Red Sox drafted Rizzo when Epstein and Hoyer were in Boston's front office. Then Hoyer traded for Rizzo when he moved on to be the Padres general manager. When Epstein and Hoyer arrived in Chicago this offseason, one of their first moves was to bring Rizzo along by working out a trade package with the Padres that required hard-throwing Andrew Cashner to head west.
That in itself lends its own amount of pressure, but Rizzo sees it as more of a blessing than a curse.
"They drafted me when I was young; I was under the radar in high school and they drafted me and believed in me and I worked my way up with the Red Sox, got traded to San Diego obviously and here now," Rizzo said. "They believed in me. A lot of people after last year, after the struggles, could have written me off easily, but the people that know me closely know that's a fluke and hopefully that will be overcome this time around."
Indeed, there seems to be some impressive maturity on display for a 22-year old. Instead of running away from what went wrong last season, Rizzo embraced it and is now excited to have things turn out different this time.
"Last year in San Diego, I missed everything over the plate," Rizzo said. "I was just trying to do too much. Even this year, I catch myself trying to do too much down there in one at-bat or one swing and I'll step out and kind of hit myself. Now this year my hands are a little lower, a little shorter to the ball. But it's just preparing yourself every day to put yourself in a good position (for success)."
Chicago Cubs beat reporter
Prospect Rizzo on Cubs debut: I'm here to stay
http://espn.go.com/chicago/mlb/story/_/id/8099182/chicago-cubs-prospect-anthony-rizzo-said-here-stay
http://sports.espn.go.com/espn/rss/mlb/news
ESPN.com – MLB
Latest MLB news from ESPN.com
http://a.espncdn.com/i/tvlistings/tv_espn_original.gif