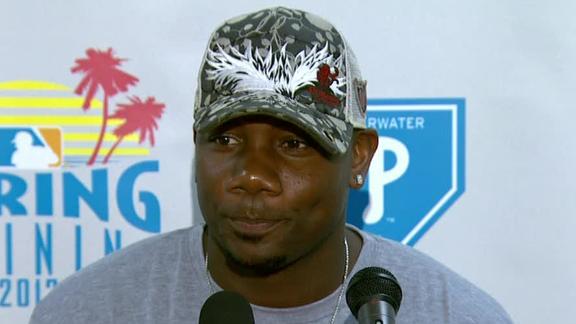 VIDEO PLAYLIST
CLEARWATER, Fla. — The question people keep asking injured Philadelphia Phillies first baseman Ryan Howard is when he'll be back in the lineup. But Howard said Wednesday that, "I'm not putting a time limit on it."
"I'm just going to listen to my body," Howard said, "and we'll see where we are."
The Phillies have said they hope to have their cleanup hitter back by early May. But when asked if May was realistic, Howard replied: "We'll see. Ask me in May."
Howard took live batting practice Wednesday for the first time since rupturing his left Achilles tendon on the final play of the Phillies' National League Divisional Series loss to the Cardinals last October.
His manager, Charlie Manuel, said Wednesday he believes Howard is ahead of schedule. But Howard said: "I feel good about where I am right now. I don't know what everyone else's expectations were, but I feel good."
As encouraged as Manuel is by what he's seen from his first baseman so far this spring, the manager added that, "at the same time, I'm not ready to project when he's ready to play."
Manuel said any thought about Howard being back by Opening Day is "still a reach."
The Phillies haven't spelled out what Howard's progression will be in spring training, and Howard said he's just playing that by ear.
"Right now, I probably won't be participating in games this spring," he said. "But we'll see."
Manuel said he will take a look at Ty Wigginton, Laynce Nix, John Mayberry Jr. and Jim Thome at first base before deciding how the Phillies will fill the position in Howard's absence. Mayberry played 18 games at first for the Phillies last season, but he's also competing for the left-field job in the wake of Raul Ibanez's departure as a free agent. So Manuel said Mayberry will "probably play more in left field than anywhere."
Jayson Stark is a senior writer for ESPN.com.
Phils' Howard takes 1st BP since Achilles injury
http://espn.go.com/mlb/spring2012/story/_/id/7602917/philadelphia-phillies-ryan-howard-takes-first-batting-practice-achilles-injury
http://sports.espn.go.com/espn/rss/mlb/news
ESPN.com – MLB
Latest MLB news from ESPN.com
http://a.espncdn.com/i/tvlistings/tv_espn_original.gif