TAMPA, Fla. — Left-hander Andy Pettitte is coming back to the New York Yankees.
Pettitte Returns: Rapid Reaction

Andy Pettitte's eventual return to the majors could shake up the Yankees' rotation, writes Andrew Marchand. Story
Pettitte, who retired before last season, has signed a one-year minor league contract with an invitation to spring training, the team said. The deal is worth $2.5 million, baseball sources told ESPN The Magazine's Buster Olney.
Pettitte started 21 games in 2010 for the Yankees, going 11-3 with a 3.28 ERA. He was 14-8 with a 4.16 ERA in 2009, his last full season.
Pettitte had spent a couple days in Yankees camp as a guest instructor this spring. And last Friday, when he was in Orlando for a charity event for his church, Pettitte went to the Braves' facility and threw batting practice to the Yankees in uniform.
Pettitte announced his retirement on Feb. 5, 2011, saying he "didn't have the hunger, the drive that I felt like I needed" to continue pitching in the big leagues.
Pettitte's Place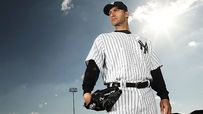 Andy Pettitte's back in pinstripes. Where does he rank among all-time Yanks?
50 Greatest Yankees

 Rank 'Em
That announcement came as a trial date loomed for Pettitte's former teammate, Roger Clemens, on charges he lied to Congress when he said he had never used performance-enhancing drugs.
Pettitte, who had admitted publicly to using human growth hormone on two occasions to recover from injuries, was expected to testify at Clemens' trial, which ended in a mistrial before he could take the stand. But Pettitte insisted when he retired that his potential role as a witness played no role in his decision.
Jury selection for Clemens' new trial begins on April 16.
Pettitte has compiled a 240-138 record and a 3.88 ERA in 13 seasons with the Yankees and three with the Houston Astros. He is a three-time All-Star, a two-time 20-game winner and a member of five Yankees world championship teams.
Information from ESPNNewYork.com senior writer Andrew Marchand and The Associated Press was used in this report.
Pettitte returns to Yanks, signs 1-year deal
http://espn.go.com/new-york/mlb/story/_/id/7696338/2012-spring-training-andy-pettitte-returning-new-york-yankees-signs-minor-league-deal
http://sports.espn.go.com/espn/rss/mlb/news
ESPN.com – MLB
Latest MLB news from ESPN.com
http://a.espncdn.com/i/tvlistings/tv_espn_original.gif