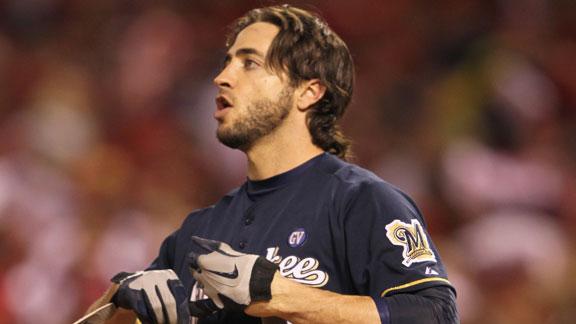 VIDEO PLAYLIST
NEW YORK — National League MVP Ryan Braun's 50-game suspension was overturned Thursday by baseball arbitrator Shyam Das, the first time a baseball player successfully challenged a drug-related penalty in a grievance.
The decision was announced Thursday by the Major League Baseball Players Association, one day before the 28-year-old outfielder was due to report to spring training with the Milwaukee Brewers.
Fantasy Spin: Braun Back In First Round

Milwaukee Brewers OF Ryan Braun has successfully appealed his suspension for a positive drug test. And barring further developments he is once again worthy of a first-round selection, writes ESPN.com's Tristan H. Cockcroft. Story
Braun tested positive in October for elevated testosterone, and ESPN revealed the positive test in December.
"I am very pleased and relieved by today's decision," Braun said in a statement. "It is the first step in restoring my good name and reputation. We were able to get through this because I am innocent and the truth is on our side.
"We provided complete cooperation throughout, despite the highly unusual circumstances. I have been an open book, willing to share details from every aspect of my life as part of this investigation, because I have nothing to hide. I have passed over 25 drug tests in my career, including at least three in the past year."
Braun didn't argue evidence of tampering, didn't argue anything about science being wrong but argued protocol had not been followed. A second source confirmed to ESPN investigative reporter Mark Fainaru-Wada that Braun did not dispute the science but rather questioned chain of custody/collection procedure.
According to one of the sources, the collector, after getting Braun's sample, was supposed to take the sample to FedEx/Kinkos for shipping but thought it was closed because it was late on a Saturday. As has occurred in some other instances, the collector took the sample home and kept it in a cool place and possibly refrigerated it. Policy states that the sample is supposed to get to FedEx as soon as possible.
Braun's initial T/E ratio was more than 20:1. And sources previously confirmed synthetic testosterone in his system. A source says MLB is livid and is considering options and other comment.
No reasoning was given for Thursday's decision.
"Today the arbitration panel announced its decision, by a 2-1 vote, to sustain Ryan Braun's grievance challenging his 50-game suspension by the commissioner's office," a statement from the players' association said.
MLB executive vice president Rob Manfred and union head Michael Weiner are part of the arbitration panel, and management and the union almost always split their votes, leaving Das, the independent panel member, to make the decision.
Manfred said management disagreed with the decision by Das. It is the first time a drug suspension has been overturned in a grievance, baseball officials said.
"It has always been Major League Baseball's position that no matter who tests positive, we will exhaust all avenues in pursuit of the appropriate discipline. We have been true to that position in every instance, because baseball fans deserve nothing less," Manfred said. "As a part of our drug testing program, the commissioner's office and the players' association agreed to a neutral third party review for instances that are under dispute. While we have always respected that process, Major League Baseball vehemently disagrees with the decision rendered today by arbitrator Shyam Das."
Braun hit .312 with 33 homers and 111 RBIs last year and led Milwaukee to the NL championship series, where the Brewers lost to the eventual World Series champion St. Louis Cardinals. The Brewers are counting on his offense following the departure of Prince Fielder, who became a free agent and signed with the Detroit Tigers.
Braun already was signed through 2015 when the Brewers gave him a new deal running through 2020 that added $105 million and guaranteed him a total of $145.5 million over a decade.
Green Bay Packers quarterback Aaron Rodgers tweeted in Braun's defense: "MLB and cable sports tried to sully the reputation of an innocent man. Picked the wrong guy to mess with. Truth will set u free #exonerated."
Information from Mark Fainaru-Wada, an invesitgative reporter with ESPN's enterprise unit, and the Associated Press was used in this report.
MVP Braun wins appeal of 50-game suspension
http://espn.go.com/mlb/story/_/id/7608360/ryan-braun-wins-appeal-50-game-suspension
http://sports.espn.go.com/espn/rss/mlb/news
ESPN.com – MLB
Latest MLB news from ESPN.com
http://a.espncdn.com/i/tvlistings/tv_espn_original.gif