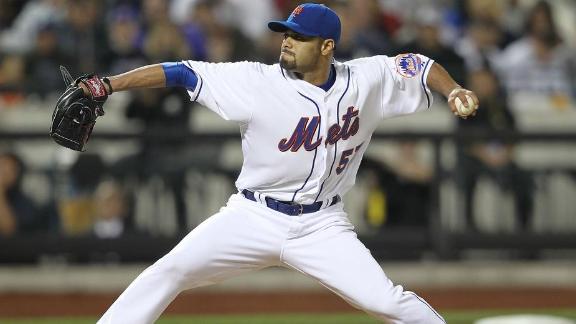 NEXT VIDEO
PORT ST. LUCIE, Fla. — After throwing an intensive bullpen session Saturday, New York Mets left-hander Johan Santana walked by manager Terry Collins and proclaimed: "You've got your pitcher for Thursday."
A day later, after Santana met with general manager Sandy Alderson, Collins and the rest of the rotation Sunday morning inside the manager's office, that proclamation was affirmed.
Santana, who last threw a pitch in a major league game on Sept. 2, 2010, will start opposite Atlanta Braves right-hander Tommy Hanson on Thursday at Citi Field in the teams' regular-season opener.
R.A. Dickey, Jon Niese, Mike Pelfrey and Dillon Gee will round out the rotation, in that order.
Santana underwent surgery to repair a torn anterior capsule in his left shoulder 12 days after that last major league pitch.
Mets Spring Training 2012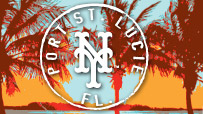 Complete coverage from Port St. Lucie. Mets Center » Camp Updates

"It means everything that we have done since I had my surgery, all the way to today, has been paid off," Santana said. "We worked hard. And I'm very happy. I'm very happy that I have an opportunity to start the season from Day 1 with the team. That's something that I really was looking forward to. I'm excited about it."
Santana will make his seventh Opening Day start, his fifth with the Mets.
"I didn't want to get ahead of everything," Santana said. "I think we were taking one step at a time, being cautious about everything. I'm really excited again. It's going to be something very important for me."
Santana has thrown no more than 88 pitches in any Grapefruit League game, and Collins said the southpaw likely would not exceed 95 pitches in April. At least six of Santana's first seven starts will be on an extra day of rest because of team off-days.
After his final Grapefruit League start, last Monday against the Cardinals, Santana felt achiness, and his fastball velocity registered only 86 mph in the first inning. So the Mets reserved naming him the Game 1 starter until they were confident he could bounce back.
"The other day, after he threw in St. Louis, the 80-something pitches, the next day he felt it, which is what you do when you get in shape," Collins said. "If it was going to bother him at all, we weren't going to pitch him. And yesterday he bounced back and said, 'I'm ready to go.' "
ESPNNewYork.com
Mets' Santana to start opener after missing '11
http://espn.go.com/new-york/mlb/story/_/id/7761540/spring-training-2012-new-york-mets-ace-johan-santana-start-opener-missing-2011
http://sports.espn.go.com/espn/rss/mlb/news
ESPN.com – MLB
Latest MLB news from ESPN.com
http://a.espncdn.com/i/tvlistings/tv_espn_original.gif