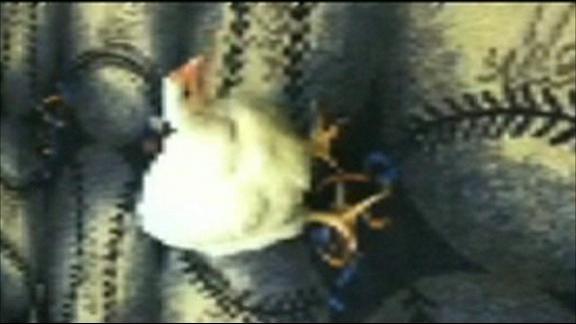 NEXT VIDEO
NEW YORK — New York Mets left-hander Tim Byrdak pledges that new team mascot "Little Jerry Seinfeld" will not wind up in a deep fryer.
Byrdak had someone buy the chicken in Chinatown for $8 after Mets closer Frank Francisco created a stir by calling the New York Yankees "chickens."
The bird, which Byrdak named after Kramer's cockfighting chicken on "Seinfield," ran around the clubhouse during pregame Friday, before Francisco closed out a 6-4 win in the Subway Series opener.
Mets blog


Looking for more information on the Mets? ESPNNewYork.com has you covered. Blog
"Frank thought it was funny," Byrdak said. "At first, I told him the Yankees sent it over for him. He had a look of concern on his face. And then he said, 'You bought it.' And I said, 'Yeah, I bought it.' Everyone got a good chuckle out of it. He ran around here for a little bit. And we played the game."
Now, Byrdak is trying to find a home for the chicken.
"Everyone's like, 'It's funny,' and then it's like, 'All right, now what?' " teammate Jason Bay said. "You can't just put it out on Roosevelt Ave."
The chicken spent Friday night in a cage at Citi Field. Team chef Theresa Corderi fed the bird a meal of oatmeal, berries and bread after doing research into the appropriate cuisine on the internet.
"If anybody has a chicken farm or a petting zoo or somewhere where we can get him nice, I'd rather not kill Little Jerry Seinfeld," Byrdak said.
Byrdak seemed receptive to an offer from Farm Sanctuary in Watkins Glen, N.Y., which attempts to fight cruelty at factory farms and slaughterhouses.
"We're trying to get him into a chicken sanctuary or somewhere where he can rest comfortably for the rest of his life and not worry about a deep fryer. Or an oven," Byrdak said. "I went to Twitter last night to try to have people help me, but a lot of people said they wanted to throw him in a KFC bucket. That wasn't funny."
Was the gag really worth it?
"Of course, it's worth it," Byrdak said. "We scored five in the first yesterday."
ESPNNewYork.com
Mets looking for sanctuary for chicken mascot
http://espn.go.com/new-york/mlb/story/_/id/8088969/new-york-mets-looking-sanctuary-chicken-mascot-little-jerry-seinfeld
http://sports.espn.go.com/espn/rss/mlb/news
ESPN.com – MLB
Latest MLB news from ESPN.com
http://a.espncdn.com/i/tvlistings/tv_espn_original.gif