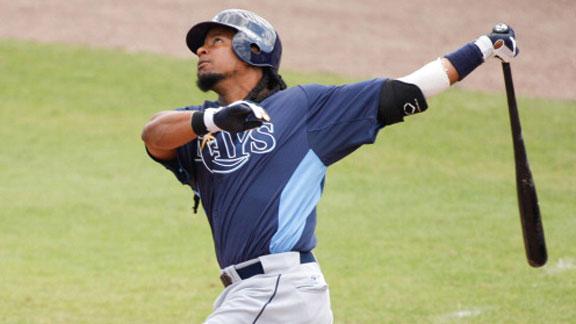 VIDEO PLAYLIST
PHOENIX — Manny Ramirez reported to the Oakland Athletics training camp Friday, ready for a new adventure in his storied but turbulent career.
[+] Enlarge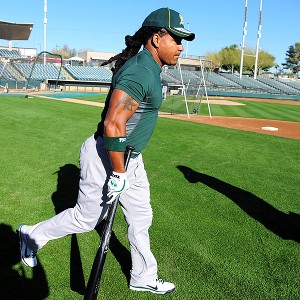 Ramirez signed a minor league deal with an invitation to spring training last week. The 39-year-old outfielder/designated hitter, who wore No. 24 for most of his career and No. 99 when he played for the Los Angeles Dodgers, will wear No. 1 with the A's.
"Everything starts with the number one. To me, it's like a new beginning," Ramirez told ESPNDeportesLosAngeles after his arrival at Municipal Stadium. "God has given me a second chance and I'm not going to waste it. My arrival in Oakland is not a coincidence, it's a God-incidence."
Ramirez, who has twice tested positive for drugs banned by Major League Baseball, will have to sit out for 50 games before having his first at-bat in 2012. With no rainouts, his debut could come on May 30, when he turns 40, at Minnesota.
After taking batting practice, in which he hit at least seven home runs off A's coach Mike Gallego, Ramirez addressed the media accompanied by his wife, Juliana, and two sons, Manny Jr. and Lucas.
"I made some mistakes and I want to show my children I can correct them," Ramirez said. "Every Thursday morning my wife and I went to church, kneeled down and prayed. I am blessed to have this opportunity again."
Ramirez decided to retire after he was suspended in April 2011 while playing for the Tampa Bay Rays, but he reversed that decision and was reinstated in December.
"I'm a new man who found true happiness in God's word. Right now, I have a peace I never experimented in my life," said Ramirez, a .312 lifetime hitter with 555 home runs and 1,831 RBIs in 19 seasons.
Ramirez said he has no expectations other than to "show people I can still play."
A's manager Bob Melvin said someone of his stature could influence the rest of the team.
"He can be a great example with his work ethic," Melvin said. "We have some young kids and, who knows, maybe something will rub off."
Enrique Rojas is a baseball writer for ESPNDesportesLosAngeles.com. Information from The Associated Press was used in this report.
Manny arrives at A's camp, ready for new start
http://espn.go.com/mlb/spring2012/story/_/id/7611367/2012-spring-training-manny-ramirez-reports-oakland-athletics-camp
http://sports.espn.go.com/espn/rss/mlb/news
ESPN.com – MLB
Latest MLB news from ESPN.com
http://a.espncdn.com/i/tvlistings/tv_espn_original.gif