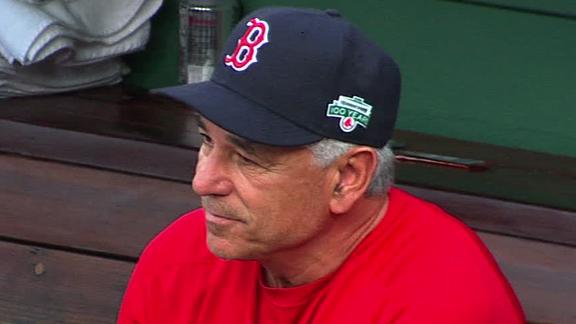 Morning Buzz: Red Sox In Disarray
NEXT VIDEO
Boston Red Sox owner John Henry on Wednesday vehemently denied a Yahoo! Sports report that players had called for a managerial change at a July 26 meeting with ownership in New York.
"No one in that meeting at any time took the position that Bobby (Valentine) should be or needed to be replaced," Henry wrote in an email to a number of media outlets.
Olney: Let GM Decide

Given the ongoing tension in Boston's clubhouse between players and Bobby Valentine, owner John Henry should learn from his late friend George Steinbrenner and empower GM Ben Cherington, writes Buster Olney. Blog

On Tuesday, Yahoo! Sports reported that a group of players ripped Valentine at the meeting, some even telling ownership they no longer wanted to play for him. Among the biggest Valentine critics at the meeting, according to the report, were first baseman Adrian Gonzalez and second baseman Dustin Pedroia.
Pedroia denied he called for Valentine's firing at the meeting and laid blame for the team's struggles this season primarily on the players.
Henry said the meeting was called at his behest and was similar in tone to roundtable meetings he says he has hosted throughout his tenure as Red Sox owner, meetings he says have often resulted in improvements to "training facilities, protocols, safety, resources, travel issues, clubhouse issues and trust within a cooperative framework."
"But more than anything else," wrote Henry, "these meetings have been about the same thing the meeting in New York was about — what it takes to win — what can we all do to improve our ability to win?"
Henry confirmed ownership held three separate meetings in New York, one with players, one with coaches and a third with Valentine, "separating groups so as to have frank discussions about what was wrong."
Mike and Mike in the Morning
ESPN MLB Insider Buster Olney dishes on the atmosphere in the Red Sox's clubhouse, Dustin Pedroia, Josh Beckett, Jon Lester, Bobby Valentine's future in Boston and more.
He said there was one "overriding sentiment" at the meeting with players, which took place at a New York hotel on the team's day off before a series against the Yankees.
"Players felt responsible for the record," wrote Henry. "They weren't blaming injuries or anyone but themselves. At the same time they openly spoke about what could improve in addition to their play. They made substantive points. We addressed those points."
He called that meeting similar to one the team had "about eight years ago," which if his timetable is correct puts it sometime during the 2004 season. That was Terry Francona's first season as manager in Boston. The team scuffled through much of the season, but turned it on after trading Nomar Garciaparra on July 31 and went on to win its first World Series in 86 years.
It would take a much bigger turnaround to save this year's Red Sox team, which currently sits three games under .500 (57-60), 12½ games out of first place and 6½ back in the wild-card race. It's been a season filled with reports of discord, miscommunication and questions of trust between the manager, coaches, ownership and players. The team is 8-10 since the meeting with players.
More On The Red Sox

Gordon Edes and the rest of the ESPNBoston.com team have the Red Sox covered for you. Blog

"I understand that when the team isn't playing up to our standards that issues are going to be sensationalized," wrote Henry. "But what is important for Red Sox fans to know is that ownership, players and all staff especially Bobby Valentine are determined to turn around what has thus far been an unacceptable, failed season. We are all on the same page in that regard and will not waver."
There were 17 players at the meeting with ownership in New York, according to ESPN.com. Henry wrote that this was the first time he remembers any information from one of the team's roundtable meetings has been leaked to the media.
"First of all for more than a decade we have had a code among players, staff and ownership that our meetings are private and do not leave the room," he wrote in the opening sentence of his email. "There is one reason for that. It enables all of us to openly discuss important issues. For more than a decade not one person in any of those meetings has gone to the media with private information."
Henry: No one called for Valentine's firing
http://espn.go.com/boston/mlb/story/_/id/8271822/john-henry-boston-red-sox-called-bobby-valentine-firing
http://sports.espn.go.com/espn/rss/mlb/news
ESPN.com – MLB
Latest MLB news from ESPN.com
http://a.espncdn.com/i/tvlistings/tv_espn_original.gif