SAN DIEGO — Tony Gwynn is already talking after five doctors spent 14 hours removing a malignant tumor from inside the Hall of Famer's right cheek on Tuesday.
According to Gwynn's wife, Alicia, the doctors performed a complex nerve-graft procedure, removing Gwynn's facial nerve and replacing it with a nerve from Gwynn's shoulder.
Alicia Gwynn said her husband came out of surgery at 1 a.m. PT Wednesday, and that doctors told her they had entirely removed the cancerous growth from his parotid gland.
Outside The Lines
In 2010, ESPN.com's Tom Friend talked to Tony Gwynn about his longtime use of smokeless tobacco and his return to baseball after having a tumor removed from his cheek. Story
At 8:30 a.m., Tony Gwynn was already talking, drinking water and laughing. That was not the case 18 months ago, when he underwent previous cancer surgery in the same spot and could not smile for months.
"I'm already ahead of schedule," Gwynn said Wednesday afternoon from Thornton Hospital at the University of California-San Diego, just 12 hours after surgery. "Last time, I couldn't lift my eye or close my mouth. This time, my eye can close, my mouth can close. I feel good. I'm talking better than I did last time."
The surgery was intricate and not without high risk. If the nerve graft did not go well, Alicia Gwynn said, her husband's face could have been partially paralyzed or slightly disfigured.
But as of Wednesday morning, there were no signs of complications, and all biopsies performed on his salivary gland and facial area during the operation came back negative, Alicia Gwynn said.
"It turned out great," Alicia Gwynn said. "He looks good, he looks normal. His eyelids are a little swollen, but they got all the cancer. They say they got it all. His face looks good. They did an amazing job."
She said that because the cancer was localized, she believed her husband, 51, could possibly resume his job as baseball coach at San Diego State in about a month.
"I don't know when I'll be back," Tony Gwynn said Wednesday afternoon. "I'll worry about me first. When I get healthy, I'll get back out there. I'm grateful for the position I'm in. There's no reason to rush now."
Tony Gwynn said he used smokeless tobacco inside his right cheek during his entire 20-year career with the San Diego Padres, and for another decade following that.
[+] Enlarge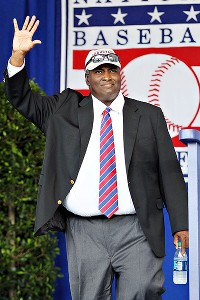 "I'm addicted," he previously has said of his habit.
Twice during his career, doctors found benign growths on the right side of his face, but Gwynn still kept "dipping." Then, in August 2010, a biopsy showed a malignant growth inside his mouth, and on Aug. 31, Gwynn had surgery to have most of it removed.
During that operation, doctors peeled back the right side of his face and discovered the malignant tumor was wrapped around one of his nerves.
That particular nerve controls the right side of his face, from his forehead to his eye to his mouth to his cheek. If doctors had removed the tumor entirely without a nerve graft, the nerve would have been irreparably harmed and that side of his face would have been permanently paralyzed. He would never have been able to close his eye or eat without drooling.
Instead, the surgeons salvaged the nerve by leaving remnants of the tumor, hoping chemotherapy and radiation would clear the rest of the growth.
At the time, Gwynn's oncologist at Scripps Memorial Hospital, Dr. Prabhakar Tripuraneni, claimed there was no known link between smokeless tobacco and cancer of the parotid. But the doctor acknowledged there had not been sufficient studies done to prove it one way or the other.
Gwynn's comment was: "Of course it caused it … I always dipped on my right side."
Since the 2010 operation, Gwynn has not used smokeless tobacco — instead opting for a safer, doctor-approved synthetic dip that he said
"tasted awful."
But in January, the cancer returned, and Gwynn implored his doctors to remove the entire tumor, even if it meant tampering with his facial nerves.
"I had to do what I had to do," Gwynn said Wednesday. "It is what it is. It's done. I mean, I guess it's never over. I thought it was over the last time. But Alicia says it's over this time. She says quit saying it's not over. So that's what I'm going to say — they got it. The doctors got it. They got it all this time."
Tom Friend is a senior writer for ESPN.com.
Gwynn: I'm 'ahead of schedule' after surgery
http://espn.go.com/mlb/story/_/id/7578270/hall-famer-tony-gwynn-says-ahead-schedule-14-hour-tumor-removal-surgery
http://sports.espn.go.com/espn/rss/mlb/news
ESPN.com – MLB
Latest MLB news from ESPN.com
http://a.espncdn.com/i/tvlistings/tv_espn_original.gif