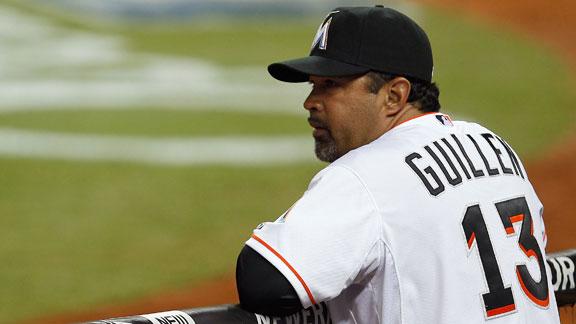 Can Ozzie Guillen Survive This Season?
NEXT VIDEO
PHILADELPHIA — Nearly all the Miami Marlins rushed over to the dugout railing and playfully pretended to listen when Joey Cora sat down to speak about filling in for suspended manager Ozzie Guillen.
Shortly after Guillen addressed the team in the clubhouse Wednesday and apologized for saying he admired Fidel Castro, it was business as usual for the players.
To a man, they had his back.
More from ESPN.com

Ozzie Guillen was foolishly impolitical and either dangerously unaware of or insufficiently sensitive to the sensibilities of the community. Now, we will find out what Guillen, the Marlins, the public and media have learned from this public collision, writes Howard Bryant. Story
---

Apologies and in-the-flesh explanations aside, the oft-outspoken Ozzie Guillen faces a tough road for him to recover from his favorable comments about Fidel Castro, writes Jayson Stark. Story
---

Israel Gutierrez came home to South Florida on Monday afternoon and woke up to the import of Ozzie Guillen's insensitive comments about Fidel Castro. Story
---

Ozzie Guillen's inappropriate comments about Fidel Castro led to a Marlins suspension. But Jim Bowden says Miami didn't go far enough. Blog
•  OTL: Campanis uproar revisited
---

Facing a public relations disaster, the Marlins made the right decision in suspending Guillen for five games, writes David Schoenfield. Blog
"It's really a hard time for him and his family," closer Heath Bell said. "We felt bad for him. You have to understand that occasionally guys make mistakes. At least he's owning up to it and not trying to hide or shy away from it. He's going to try and make up for his mistakes.
"He can only be a better person out of it. Like he said, if he doesn't learn from this, he's stupid. That's what he said."
Guillen's comments led to his five-game suspension that started when Miami played the Phillies in the second game of a three-game series. The Marlins, who opened a new ballpark last week and added several marquee free agents over the winter, are off to a 2-3 start.
A day after a contrite Guillen held an hourlong news conference in Miami, he talked to the team for less than 10 minutes and expressed similar emotions.
"There's nothing he needs to apologize to us about," reliever Mike Dunn said. "He's our manager and we back him 100 percent."
Outfielder Logan Morrison said: "I love the guy."
The Marlins conclude the series with Philadelphia on Thursday, before returning home to play Houston on Friday.
Guillen's praise of the Cuban dictator in an interview with Time magazine outraged the Cuban-American community in Miami and led some politicians to call for his dismissal.
"This one was big and he felt it from the beginning," said Cora, a close friend of Guillen who's been coaching under him since 2004 with the Chicago White Sox. "He got shaken, he felt it. After he analyzed what happened, in retrospect, he wouldn't have said what he said. He apologized and it came from the heart and hopefully he makes amends with the community.
"He will."
Cora has filled in for Guillen before, though never under these circumstances. He said he planned to manage games the way Guillen would and was certain players wouldn't be affected.
Things weren't quite the same for him, of course.
"I've never had this many people try to get me to talk," Cora joked. "You guys know me. I don't talk. I barely say 'Hi' to people."
Guillen apologized over the weekend after his remarks were published, and called it the biggest mistake of his life at his news conference on Tuesday.
"We're not worried about it," Morrison said of the situation. "We're worried about winning games. It's not a distraction. It's not an excuse to play [poorly]."
Former NBA player Charles Barkley understands the backlash Guillen is dealing with, and how tough it can be to cope with the ensuing frenzy.
"I tried to reach out to Ozzie yesterday, because when I got my DUI, or when I spit on the girl back in the '80s, hey man, when they're burning down your damn house, it's tough, man," Barkley said on "The Waddle and Silvy Show" on ESPN 1000. "It's tough when you really screw up and you can't watch TV or listen to the radio.
SportsNation: Ozzie Guillen's future

Ozzie Guillen apologized for his comments on Fidel Castro, but will he last the rest of the year? What's your take?
"… Everybody makes mistakes; unfortunately when you do them publicly, you get nailed to the cross, but you have to ride it out. I always tell people, the good thing about it is somebody else is going to screw up soon."
The team didn't consider firing Guillen or asking him to resign five games into his tenure, Marlins president David Samson said on Tuesday.
Guillen said he doesn't love or admire Castro.
"I was saying I cannot believe somebody who hurt so many people over the years is still alive," he said.
Time said Tuesday it stands by its story.
"You have to be really careful when you talk about the Cuban situation in Miami," Barkley told the radio station. "Obviously, it's a hot-button issue. It was unfortunate. It's interesting when I sit back, all you can do is apologize. Some people are going to forgive you and some people not. I always sit back and people are like was his apology sincere? … All you can do is apologize. Sometimes you get caught up in the moment."
ESPN Radio on Ozzie Guillen

On ESPN Radio's "Mike and Mike in the Morning," ESPN's Pedro Gomez says some in Miami will never forgive Ozzie Guillen for his Fidel Castro comments, despite his apology. Listen

• Scott Van Pelt: Buster Olney
• The Herd: Dan LeBatard

• Mike and Mike: John Kruk

Baseball commissioner Bud Selig said the remarks "have no place in our game" and were "offensive to an important part of the Miami community and others throughout the world."
"As I have often said, baseball is a social institution with important social responsibilities," Selig added in a statement on Tuesday. "All of our 30 clubs play significant roles within their local communities, and I expect those who represent Major League Baseball to act with the kind of respect and sensitivity that the game's many cultures deserve."
Information from The Associated Press was used in this report.
Guillen speaks to Marlins players in clubhouse
http://espn.go.com/mlb/story/_/id/7801632/ozzie-guillen-speaks-miami-marlins-players-clubhouse
http://sports.espn.go.com/espn/rss/mlb/news
ESPN.com – MLB
Latest MLB news from ESPN.com
http://a.espncdn.com/i/tvlistings/tv_espn_original.gif