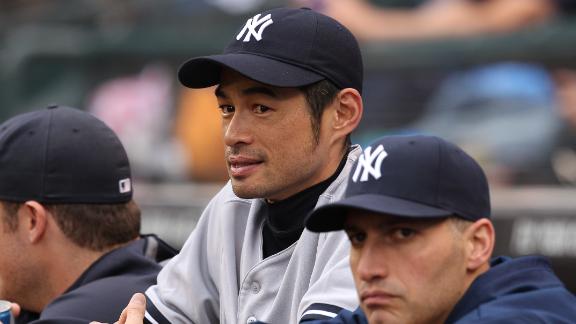 NEXT VIDEO
Ichiro Suzuki apparently wanted the New York Yankees even more than the Yankees wanted him.
More from ESPN.com

The Yankees may have struck gold with their acquisition of Ichiro. The gamble didn't cost much and could result in a massive payoff, writes ESPN New York's Wallace Matthews. Story
---

Going to New York's high-powered lineup and playing home games in hitter-friendly Yankee Stadium could significantly boost Ichiro's fantasy value, ESPN.com's Eric Karabell writes. Blog

• SweetSpot: Mariners move on
• Bowden: Both teams win in deal


• Olney: The downside of the trade


• ESPN NY: Ichiro, A-Rod reunite
• Reaction: Ichiro gets hit in debut
Before completing a trade to acquire the Japanese star, the Yankees spelled out a list of conditions to Ichiro, a former American League MVP and two-time batting champion.
Ichiro would be asked to switch positions, hit at the bottom of the lineup and possibly sit against left-handed pitching.
"He was fully educated on all our requirements," Yankees general manager Brian Cashman told ESPNNewYork.com. "One by one, every box got ticked off."
Ichiro had requested a trade from the last-place Seattle Mariners, the only big league team he had ever played for after coming to the U.S. from Japan as a 27-year-old in 2001. But the Yankees were not sure the 10-time All-Star would be willing to make all the adjustments they required.
After Ichiro agreed to the conditions — and waived his no-trade clause — Cashman and Mariners GM Jack Zduriencik completed the deal that was initiated in a phone call between Mariners president Chuck Armstrong and Randy Levine, his counterpart with the Yankees.
"(Ichiro) was asked to make a lot of sacrifices," Cashman said. "And he agreed to all of them."
A team source acknowledged that if the player's name wasn't Ichiro, the Yankees probably wouldn't have had any interest in the outfielder, who is batting a career-low .261 this season.
Ichiro Suzuki In Pinstripes
Ichiro Suzuki is a Yankee — and ESPN New York has all the breaking coverage.
The Best of Ichiro

 Latest

But the consensus among Yankees scouts was that Ichiro was "bored" playing for the last-place Mariners and was "playing down to his surroundings." The Yankees hope this situation will reverse itself with the 38-year-old Ichiro suddenly shifted to a first-place team with a legitimate hope of reaching the World Series.
Yankees scouts reported that Ichiro's athleticism and defensive abilities were undiminished, another factor that influenced New York to take the leap of faith that Ichiro could return to a semblance of his former effectiveness.
And having parted with just right-handed pitchers D.J. Mitchell and Danny Farquhar, the Yankees have added a potential superstar to their already potent lineup.
"We think (Ichiro) is a reincarnation of Brett Gardner," Cashman said. "He's a reproduction of what we lost."
SportsNation: Trading Ichiro Too Late?


The Mariners traded Ichiro Suzuki to the Yankees, but did they get all that they could have in return?
Vote!
In fact, Ichiro at his best was a far better player than Gardner has been so far, a career .322 hitter with a string of 10 200-plus hit seasons to his credit who averaged more than 40 stolen bases in each of his first 11 major league seasons.
This year, Ichiro's numbers are way down — his .288 on-base percentage places him near the bottom of the AL among players with at least 250 at-bats.
"He's a fit under the circumstances we're in," Cashman said. "Worst-case scenario, I've improved my outfield situation. Best-case scenario is a tremendous upside. We might be getting a superstar."
ESPNNewYork.com
GM: Ichiro made concessions to join Yankees
http://espn.go.com/new-york/mlb/story/_/id/8195019/new-york-yankees-ichiro-suzuki-made-concessions-agreeing-trade
http://sports.espn.go.com/espn/rss/mlb/news
ESPN.com – MLB
Latest MLB news from ESPN.com
http://a.espncdn.com/i/tvlistings/tv_espn_original.gif