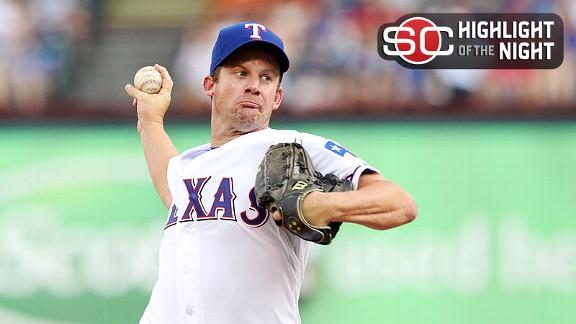 NEXT VIDEO
ARLINGTON, Texas — It was clear Friday why Rangers CEO and Hall of Famer Nolan Ryan likes Roy Oswalt so much.
He's a grinder. He attacks hitters. He doesn't mess around. At 34 years old, he doesn't have quite the stuff he did when he posted back-to-back 20-win seasons with the Houston Astros in 2004 and 2005, but the man still knows how to get through an opposing lineup. He knows how to keep his team in games and find a way to rack up innings to save the bullpen. And that's all the Rangers really need him to do.
Heck, Oswalt even sounds like Ryan, smirking at the suggestion that at 95 pitches after six innings he didn't have enough left in his arm to go one more inning. Ryan doesn't see 100 pitches as some sort of imaginary barrier and neither does Oswalt.
[+] Enlarge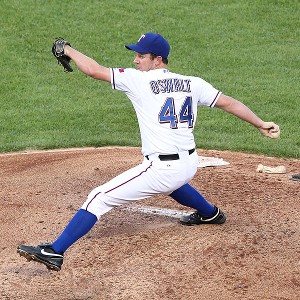 "I just wanted to get through the seventh," Oswalt said about the Rangers' 4-1 win over the Rockies. "To me there's not a really big difference between 95 and 115. I don't know who really set the 100 pitch count. I don't know where that came from. Some doctor guru just came up with that or something. Coming into the big leagues, sometimes I'd throw 130 pitches my first year up. It made you learn how to get yourself out of jams instead of looking back to the bullpen to help you out."
Oswalt was disappointed he couldn't get out of his final jam, when he gave up a two-out, run-scoring double to Marco Scutaro in the seventh to end the Rangers' shutout bid and end Oswalt's outing. That's why when he received a standing ovation from the crowd of 46,964 at Rangers Ballpark in Arlington — Ryan stood and clapped from his front-row seat in the owner's box — he didn't tip his cap.
"I was still mad I threw an 0-2 fastball in the middle of the plate," Oswalt said.
Still, it was a solid Rangers debut for Oswalt, pitching for an American League team for the first time in his 12-year career. It didn't hurt that he was doing so against a Colorado team he has dominated in his career.
Oswalt came in with an 8-2 record and a 1.94 ERA in 12 starts. He added a win and a quality start, lowering his ERA slightly, thanks to one run allowed in 6 2/3 innings.
Oswalt gave up nine hits, but didn't allow those hits to cause much damage. He pitched from ahead in the count most of the night, surrendering six of those hits when he had two strikes on the hitter.
"I was disappointed I gave up that many 0-2 hits," said Oswalt, who gave up three of them. "But other than that, I commanded all my pitches. If I can keep this type of command all the way through, I'll be happy."
So will the Rangers.
Oswalt allowed just one run with one walk and six strikeouts.
He pitched quickly, something his defense certainly appreciated. He threw strikes, getting ahead in the count and helping him make quick work of the Rockies' lineup. Oswalt threw 110 pitches and 81 of them — 74 percent — were strikes.
He attacked hitters all night and pitched with a lead early after the Rangers scored two runs on Adrian Beltre's homer in the bottom of the first.
"That allows you to compress the zone and really attack," Oswalt said about the lead. "You don't want to put too many guys on and make them get hits to get on."
Oswalt showed he's still got some life in his fastball, as it hit 93 mph on the stadium gun and he spotted it on both sides of the plate. His slow curve — a pitch that doesn't even reach the highway speed limits in Texas — resulted in plenty of swings and misses. The curve has major movement and comes in around 67 mph, messing with the timing of a hitter. His lone walk came to Carlos Gonzalez, the most dangerous hitter, in the sixth and that didn't hurt him.
In other words: Oswalt pitched like a wily veteran. He changed speeds, mixed up his pitches and kept the Rockies guessing. He did it after arriving at the park at 3 p.m., much earlier than on a normal start day.
"There was a pitcher's meeting and it turns out it was at 4," said Oswalt, who now knows when the meetings actually start.
More Texas Rangers coverage

For more news, notes and analysis of the Rangers, check out ESPN Dallas' Rangers Report. Blog
Friday night was yet another reminder of how much has changed in Arlington in such a short time. For starters, the game was the 21st sellout of the season for the Rangers, tying a club record set back in 1994, when Rangers Ballpark in Arlington opened. Those fans not only dealt with temperatures approaching 100 degrees, but were on hand to see a free-agent pitcher who wanted to pitch for the Rangers. Just five years ago, Texas would have had to overpay more than most teams to get someone to come in and toe the rubber in the hitter's park for a team fighting for third place in the AL West.
But now, a veteran like Oswalt sees a formidable lineup and a chance to win a ring and doesn't care about the park.
"They said you can't pitch in Colorado, the ball flies. You can't pitch in Houston, the ball flies. You can't pitch in Philadelphia, the ball flies," Oswalt said. "My dad told me if they hit in on the ground, it can't go out of the park."
Sounds like something Ryan might say, doesn't it?
Oswalt decided this spring not to sign anywhere, instead hoping that injuries to a few contending teams, with Texas on top of that list, might give him a chance to step into the rotation. It took a few months, but that's what happened. And Oswalt is now in position to give the Rangers a boost. Not only can he still get outs and become an integral part of the rotation, but he can also mentor some of the younger pitchers on the staff. That was something Cliff Lee did while he was here for the final four months of 2010.
"This is what you play for. You play for the fans. You play to get back in the postseason. You play to win the last game of the year," Oswalt said. "With Houston, we got all the way to the last game and with Philly we got pretty close. Baseball starts in the postseason and with this team right here, we've got the team to get back.
"Nothing's guaranteed for sure, but with the players you've got on the roster and the pitching staff you got here, we should be back in the playoffs."
Oswalt wants to help the Rangers get there. He has tougher tests on the horizon, starting with a Wednesday night start against Prince Fielder, Miguel Cabrera and the underachieving Detroit Tigers, who have played better baseball recently. Then, he'll take his act on the road.
The Rangers are paying Oswalt $5 million plus incentives because they believe in his competitiveness, savvy and ability to grind out innings. If he can do what he did Friday for most of the season, that investment will surely pay dividends.
ESPNDallas.com
Durrett: Oswalt grinds out win in Texas debut
http://espn.go.com/dallas/mlb/story/_/id/8086510/wily-veteran-roy-oswalt-grinds-win-texas-rangers-debut
http://sports.espn.go.com/espn/rss/mlb/news
ESPN.com – MLB
Latest MLB news from ESPN.com
http://a.espncdn.com/i/tvlistings/tv_espn_original.gif