PEORIA, Ariz. — Yu Darvish pitched two scoreless innings in his first Cactus League start, getting three strikeouts and allowing two hits, both doubles, against the San Diego Padres.
Darvish pitched in front of a half-full stadium, about 100 media members and a couple of Rangers officials, including general manager Jon Daniels and CEO Nolan Ryan.
[+] Enlarge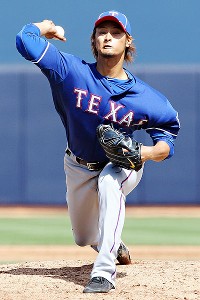 Darvish displayed a wide array of pitches, including a fastball at 92 mph to 95 mph on both sides of the plate. He threw an 80 mph curve (one of his harder curves, actually) to get Carlos Quentin, the Padres' cleanup hitter, to end the first inning.
Darvish threw an 84 mph slider with lots of movement to get Cameron Maybin swinging for a strikeout earlier in the inning. He ended his outing with a split-fingered fastball that catcher John Baker couldn't get and walked off the mound.
"It's still early," Darvish said. "I'm just starting to face these major league hitters and it's early in the spring for those hitters as well. It was nice to face those guys."
Several teammates congratulated him, and it appeared catcher Yorvit Torrealba handed Darvish the ball from his final strikeout of the inning.
He ended up throwing 36 pitches, 26 of them strikes. He threw first-pitch strikes to seven of his eight batters and pitched from the stretch for the entire outing. When asked how he'll determine whether to pitch from the stretch or the windup, Darvish said it depends on "how I feel."
The 25-year-old did allow two doubles on pitches up in the zone. Orlando Hudson hit a double through the hole between first and second, but was left stranded at second in the first.
Will Venable hit a 2-2 pitch high off the wall in center field for a leadoff double in the second. It would have been a home run had it not been hit to straightaway center.
Darvish felt his command with his secondary pitches was better on Wednesday than it was during his one inning of work in Friday's intrasquad game.
"I was happy just to be able to pitch a game against another opponent," Darvish said. "I was happy with my four-seam fastballs and my slider was working well. As far as what I wasn't happy with, this part of the season I don't worry about those too much."
More on the Rangers

Richard Durrett and the ESPNDallas.com team have the inside scoop on the Rangers, the American League and Major League Baseball. Rangers Blog » | ESPN Dallas »
Rangers Spring Training Home »
Darvish showed his athleticism in the second inning as well. He quickly got off the mound and raced to the first-base bag in plenty of time to receive Michael Young's throw after Young made a nice diving play to take a hit away from Mark Kotsay.
A few pitches later, Darvish leaped and snagged a high chopper off the bat of James Darnell, using all of his 6-foot-5 frame to get it. He then alertly threw home to eventually get Venable in a rundown.
This first Cactus League start continues Darvish's preparation for the regular season. He arrived in Surprise, Ariz., on the morning of Feb. 21, with a few dozen cameras following him as he met some of his new teammates and jogged out for a workout.
He threw to live hitters a few days later and has steadily followed the same regimen as the rest of the Rangers' pitchers.
Darvish threw one inning in an intrasquad game Friday as photographers used ladders to shoot around the fenced-in Nolan Ryan Field on the back portion of the Rangers' spring training facility.
That one inning was a chance for Darvish to face some of the Rangers' top hitters in a game environment.
Darvish said his command wasn't where he wanted it, but he enjoyed the experience. Four-time Cy Young Award winner Greg Maddux, in camp helping coach the pitchers with his brother, Mike, was impressed by Darvish's stuff after seeing it in that lone inning.
Darvish's two innings on Wednesday mark his first action against opposing hitters. He'll get more chances this spring, with another start — likely three innings — coming March 13 in Glendale against the Cleveland Indians.
ESPNDallas.com
Darvish pitches 2 scoreless innings in 1st start
http://espn.go.com/dallas/mlb/story/_/id/7657494/texas-rangers-yu-darvish-pitches-2-scoreless-1st-cactus-league-start
http://sports.espn.go.com/espn/rss/mlb/news
ESPN.com – MLB
Latest MLB news from ESPN.com
http://a.espncdn.com/i/tvlistings/tv_espn_original.gif