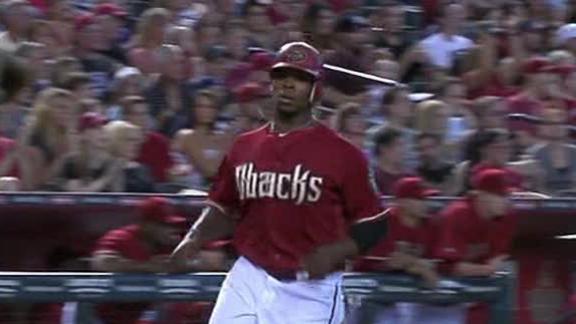 VIDEO PLAYLIST
PHOENIX — A brief return to the minors has done wonders for Patrick Corbin.
The 23-year-old rookie has had three outstanding starts since coming back from Triple-A Reno.
Corbin allowed four hits through seven innings and the Arizona Diamondbacks beat Washington 7-4 on Sunday, snapping the Nationals' season-high winning streak at eight games.
He is 2-0 in three starts since he was recalled, allowing four runs in 19 innings in that span.
"Just having some confidence against these guys," Corbin said, "just knowing you can go out there and pitch your game. That's something I've been doing since I came back up. It's been working out."
Corbin (4-4) retired 16 in a row after Bryce Harper's infield single in the first. He gave up two runs, struck out seven and walked none. He also brushed back a couple of Nationals, something that pleased manager Kirk Gibson.
"He threw the ball really well and Washington's been tough on us this series and he shut them down," Gibson said. "He executes very well. You saw him stand a couple of guys up, and I believe in that. Those are very good `purpose' pitches. It has an effect on the next few pitches and the next at-bat."
Another Arizona youngster, 24-year-old Paul Goldschmidt, drove in three runs with a double and single and scored twice. Aaron Hill, Justin Upton and Miguel Montero each had RBI doubles for the Diamondbacks.
Ross Detwiler (6-5) allowed four earned and three hits in 4 2/3 innings.
"He was really under the weather before he even started the game," manager Davey Johnson said. "He was ill, he lost it during the game and you could tell by his mannerisms that he didn't feel right. … He almost got us through the fifth. I was a little worried about him. He was having a hard time standing up after the fourth but he gutted it out."
Detwiler, though, wouldn't use illness as an excuse.
"If I am feeling bad and still get my pitches down, I get outs," he said. "I don't think that was the excuse why I did bad at all."
After the Nationals scored twice off Takashi Saito in the ninth, J.J. Putz got the final two outs for his 13th consecutive save and 22nd in 25 opportunities, striking out Roger Bernadina.
Arizona scored without a hit in the second. Goldschmidt reached on third baseman Ryan Zimmerman's throwing error and took second on the play. Goldschmidt stole third, then scored when catcher Kurt Suzuki, in his sixth game since he was acquired a trade with Oakland, threw the ball into left field. It was just Suzuki's third error of the season.
"They weren't holding me that first pitch (when he was at second) at all," Goldschmidt said. "They were pretty far away, so I saw an opportunity, and luckily they made another error, so it worked out."
The Diamondbacks didn't get a hit off Detwiler until the third. Chris Young doubled down the left-field line with one out. After Hill popped out, Jason Kubel was hit in the left elbow by a pitch, and Goldschmidt doubled to the left-field corner to bring both runners home.
Young started Arizona's four-run fifth with a walk, then scored when Hill doubled to deep center. Craig Stammen relieved Detwiler with two outs in the inning, but the Arizona hits kept coming,
Goldschmidt singled up the middle to bring home Hill, then scored from first on Upton's double. The Diamondbacks' third double of the inning, by Montero, scored Upton and Arizona led 7-0.
Corbin's string of 16 consecutive outs ended when Danny Espinosa led off the seventh with a double. After Harper struck out, Zimmerman singled in Espinosa to spoil the shutout. Zimmerman took third when Michael Morse singled and scored on Adam LaRoche's sacrifice fly. Kubel's throw from left was ahead of the runner but the catcher Montero bobbled the ball trying to make the tag.
Harper reached in the first on a slow bouncer with one out in the first. Shortstop John McDonald fielded the ball but threw past the first baseman Goldschmidt. It was ruled a hit, but Harper couldn't take second on the play because he collided with first base umpire Mike Muchlinski, thus preserving McDonald from an error. A moment later, Harper was picked off.
Game notes
The Nationals move on to San Francisco in a matchup of division leaders. LHP Gio Gonzalez (14-6, 3.32 ERA) goes for Washington, RHP Ryan Vogelsong (10-5, 2.27) for the Giants in Monday's opener. … Arizona, after its only three home games in a span of 20, has Monday off before opening a three-game series at St. Louis … Goldschmidt is among the league leaders with 34 doubles. … Detwiler caught a sizzling line drive off the bat of Kubel in the fifth, the last batter he faced. … Morse extended his hitting streak to 10 games. … Corbin's seven strikeouts matched his career high set in his previous start.



D-backs end Nationals' 8-game winning streak
http://scores.espn.go.com/mlb/recap?gameId=320812129
http://sports.espn.go.com/espn/rss/mlb/news
ESPN.com – MLB
Latest MLB news from ESPN.com
http://a.espncdn.com/i/tvlistings/tv_espn_original.gif