CHICAGO — Even if Washington Nationals pitcher Stephen Strasburg goes on to follow the wondrous career path laid out for him and collect a Jack Morris-like haul of Opening Day starts, his first one will assume a special place in his heart and mind for more than symbolic reasons.
Strasburg is making his first visit to Chicago this week, and Wrigley Field and the surrounding neighborhood have made a distinct impression on him. In his own quiet way, he seems awed by the tradition, energy and pure fun of the place. It was cool enough watching Bill Murray circle the bases before the ceremonial first pitch. But Strasburg was treated to a bonus laugh in the sixth inning when a foul pop off the bat of Cubs third baseman Ian Stewart drifted into the stands and hit liquid paydirt.
"Did you see how it slam-dunked that guy's beer?" Strasburg said.
[+] Enlarge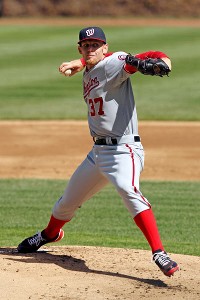 Strasburg will also remember how his Washington teammates showed resourcefulness in pulling out a game they probably shouldn't have won. After being stymied by Cubs starter Ryan Dempster for 7 2/3 innings, the Nationals took advantage of Kerry Wood's wildness in the eighth and some clutch hitting on the part of Chad Tracy and Ian Desmond in the ninth to turn a potential 1-0 loss into a 2-1 victory.
More than anything, Strasburg relishes the opportunity just to be a part of it all. He doesn't need to be the headline maker, the quote machine or the former San Diego State star turned-bonus baby and golden boy. He's just a kid who loves to pitch and understands how fortunate he is to be back on the mound doing what he does best 19 months after reconstructive surgery on his right elbow.
"He has an appreciation for how fast this stuff can be taken away from you, and he really embraces his time in the major leagues now," said Nationals general manager Mike Rizzo. "A lot of athletes come in thinking they're bulletproof, but that first injury is kind of a wakeup call. You say to yourself, 'Wow, I better appreciate what I've got and work hard to stay here, because this stuff could be fleeting."'
After an offseason of moving and shaking on the part of Rizzo, the Nationals are a popular darkhorse pick to make the playoffs despite some spring training bumps in the road. Closer Drew Storen is on the disabled list with a tender elbow, 30-homer man Mike Morse is out with a lat injury, and first baseman Adam LaRoche is swinging it like a guy who had 22 Grapefruit League at-bats.
But the starting pitching comes at you in waves — 95 mph waves — and the stuff doesn't drop off appreciably after Strasburg. Lefty Gio Gonzalez will take the mound Saturday at Wrigley, and he will be followed by Jordan Zimmermann, Edwin Jackson and Ross Detwiler over the ensuing days. The rotation is deep and talented enough that John Lannan, Washington's Opening Day starter in 2009 and 2010, will begin the season in Triple-A Syracuse and has expressed a desire to be traded.
"It's very hard to just mash your way through the season if your starting pitching can't carry the team," said reliever Brad Lidge. "For me, the fact that we have the horses that we do in the rotation is the first sign that we're going to go far."
Strasburg's name is bound to come up alongside those of Justin Verlander, Felix Hernandez and a select few others in any conversation about pitchers with dominant stuff. That's been the case since his major league debut against Pittsburgh in June 2010, when he struck out 14 Pirates (including the last seven he faced), didn't walk a batter, and cracked 98 mph with 34 of his 94 pitches.
The new, post-surgery version of Stephen Strasburg still has the ability to light up a radar gun. He sat at 95-97 mph for most of Thursday's game, and cranked it up to 98 on a strikeout of Starlin Castro to begin the sixth.
But he was also savvy enough to play to the conditions. The game time temperature at Wrigley was 44 degrees, with winds whipping in from the northeast at 18 mph. That means a two-pronged advantage for pitchers: 1) Balls in the air aren't likely to travel very far; and 2) balls on the fists can inflict more psychic damage than usual.
"Obviously, pitchers have to establish the fastball in," Strasburg said. "If you break one guy's bat, all the other guys in the dugout are watching that and they're going to be more honest."
So Strasburg made it a point to establish the hard stuff early. He threw 12 two-seam and four-seam fastballs and only two breaking balls in the first two innings. Between the dry air and the wind at Wrigley, he didn't feel confident enough in the grip on his curve to haul it out again until the middle innings.
Strasburg elicited his most memorable "that's not fair" moment when he sawed off Dempster with a heater inside, and the Chicago starter jogged to first base with a fraction of a bat in his hands. In each of Stewart's first two plate appearances, he topped the ball in a place where Nationals catcher Wilson Ramos barely had to move to field it.
"It's funny when somebody takes a hack and the ball goes three feet, and you look up and the bat goes nine," said Nationals pitching coach Steve McCatty.
Desmond, who had a nice view of all those funky swings and disheartened looks from his perch at shortstop, had to wrack his brain for a fitting comparison.
"


He has like System 1, System 2 and System 3, and he can switch it onto whatever system he wants.

"
— Nats reliever Brad Lidge on Strasburg
"The only comparison I can give you was two years ago, when Ubaldo Jimenez got off to that real hot start [in Colorado] throwing that power sinker at 95-96 mph," Desmond said. "Stephen has that fastball that gets on you, so you can't take anything for granted. And then he throws that curveball. It's kind of unfair."
Perhaps the most encouraging aspect of Strasburg's 2012 debut was his economy. He threw 58 strikes and only 24 balls in seven innings. The Nationals plan to monitor his innings this year and shut him down at 160. If he can deliver seven innings in 100 pitches or fewer in the majority of his outings, that will make life a whole lot easier on manager Davey Johnson.
Strasburg struck out five batters in his seven innings and walked only one. You have to wonder how effective he might be when he has his Grade A curveball to complement his premium fastball and changeup.
"He has like System 1, System 2 and System 3, and he can switch it onto whatever system he wants," Lidge said. "The most impressive thing is his control at his age. A lot of young guys come up and have great stuff and it's hard to control. He has great control and he's only going to get better — which is scary."
In the eighth inning, when Ryan Zimmerman, LaRoche and Jayson Werth were working walks against Wood to tie the game, Strasburg sat glued to the bench. He stayed there in the ninth inning when Tracy's double and Desmond's single put Washington ahead. This is the kind of emotional investment he missed when he was out recovering from Tommy John surgery, before he returned for five starts in September.
"As a player, watching from the dugout, you almost feel like you're in the batter's box with those guys," Strasburg said. "That says a lot about the chemistry on our team.
"You feel like you're on your own separate island when you're rehabbing [from an injury]. When you're out there fighting together as a team, pulling for each other and picking each other up, that's what I love about this game."
Now 23 and wiser from his life and baseball experience, Stephen Strasburg introduced himself to the city of Chicago with an Opening Day flourish. You get the feeling there will be many more of these to come.
ESPN.com MLB insider
ESPN.com senior writer
Author of "License to Deal"
Former Denver Post national baseball writer
Crasnick: Strong outing for Strasburg in Nationals' opener
http://espn.go.com/mlb/story/_/id/7780701/strong-outing-stephenstrasburg-washington-nationals-opener
http://sports.espn.go.com/espn/rss/mlb/news
ESPN.com – MLB
Latest MLB news from ESPN.com
http://a.espncdn.com/i/tvlistings/tv_espn_original.gif