PHOENIX — Taped to Manny Ramirez's spring training locker is a Baseball America cartoon that shows a father and son entering their home to find Manny parked on the living room couch watching TV, with the son shouting, "He's back!" Manny is indeed back. Whether that is good news or bad news depends on your perspective on performance enhancers … as well as his OPS.
[+] Enlarge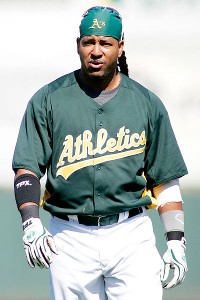 "I like him because he has a good eye, a great bat and he is a good player but at the same time he can be a cancer to a clubhouse," Oakland fan Ian Horvath said at a game this week. "I'm excited about what he can do for the team but I also want him to keep the spirit up. … I hope he changes coming here, especially after the drama of last season, and kind of gets his act together for us and bring something good to our clubhouse."
Horvath said he hopes Ramirez is clean, adding, "I'm just going to wait and see on him."
When we last saw Ramirez, he had tested positive a second time for a performance-enhancing drug just five games into Tampa Bay's 2011 season. That second positive test carried a 100-game suspension, but Ramirez chose to retire instead and sat out the rest of the season. He had a change of heart over the winter and returned to baseball, signing a minor league contract with the Athletics. Because MLB is requiring that he sit out 50 games, he is not eligible to play for Oakland until the earliest May 30, which will be his 40th birthday.
"Of course I missed [baseball]. What kind of a question is that?" Ramirez said of last summer. "You play the game your whole life. If you quit working for ESPN, would you miss it?"
Fair enough, but another question is whether baseball missed Manny. Crowds at Oakland's home Cactus League games have greeted him with a mixture of loud applause and jeers.
Asked about his two positive tests, Ramirez replied, "That's in the past. I'm moving on. I'm not perfect. He's not perfect, you're not perfect, nobody is perfect. You've made mistakes. Doesn't matter who you are. I don't care about that." He also says he has nothing to prove to fans. "I don't want to say nothing to them," he said. "I'm here because God put me in this place."
Ramirez says he felt "in his heart" that Oakland is a good place for him, which is convenient because he didn't have a lot of options. He said the Blue Jays and Orioles expressed interest in signing him before deciding against it.
A's general manager Billy Beane said he didn't have any issue signing Ramirez despite the two positive tests. As long as the rules say a player can come back after a second suspension, Beane said, "I couldn't think of a reason why not [sign him]."
The contract certainly is low-risk, or at least as low-risk as any contract can be with Ramirez — his salary is about $500,000 and he won't be paid during the suspension. What the Athletics might get in return is the bigger question.
Ramirez has 555 career home runs and has been one of the great hitters of this era, but his production (as well as his games played) has been in significant decline — his home run totals dropped from 37 in 2008 to 19 in 2009 to nine in 2010 to zero last year, when he had one hit in 17 at-bats. He hit just one home run after June in 2010. At last glance, he was hitting .167 with a .250 on-base percentage and two home runs in 18 at-bats this spring.
"Rome wasn't built in one day. Baby steps," Ramirez said. "When you play all year round and then you sit out for a year and come back, it's a work in progress."
"Listen, he'll be 40 years old," Beane said. "The layoff combined with his age, we'll see what kind of impact it has. I would be surprised if it doesn't have an impact."
On the other hand, Ramirez is in midseason form in at least one respect: Last week he took a pitch for a ball and appeared to head toward first base to take the walk. The only problem was it wasn't ball four. It wasn't even ball three. It was only ball two. Getting confused over a 1-2 count is impressive even by lofty Manny Being Manny standards.
"

Rome wasn't built in one day. Baby steps. When you play all year round and then you sit out for a year and come back, it's a work in progress.

"
— Manny Ramirez
Another factor in Ramirez's return is that even if he gets back to form, he'll need to keep his batting stroke in synch while working out in Arizona for more than a month until he is allowed to begin a 10-game minor league rehab assignment before the suspension ends.
Ramirez has been in good spirits this spring and might possibly test positive for a trace amount of humility. He reportedly offered to mentor rookie outfielder Yoenis Cespedes (as if the Cuban player didn't have enough on his plate). Cespedes said Manny has been very helpful to him since the day he arrived.
"He tries to outwork everybody," Oakland pitcher Brandon McCarthy said. "He goes over and hits in the minor league games and then he comes over and hits here. He just really enjoys swinging a baseball bat and the strategy of the game and working the pitchers.
"When he's not working, he mixes it up in the clubhouse. He has a good time and gets along with everybody. He's a normal teammate."
Normal has not always been the adjective of choice when talking about Manny's world. But, hey, it's a new beginning. Even if it might be the last one.
"It's a blessing," Ramirez said. "I'm doing something that I like. What more could I want?"
Author of "The Devil Wears Pinstripes"
Reported from 17 World Series, 9 Olympics, 6 continents
Winner of a Sports Emmy
Caple: Manny enjoying life as he attempts a comeback
http://espn.go.com/mlb/spring2012/story/_/id/7708531/manny-ramirez-enjoying-life-attempts-comeback
http://sports.espn.go.com/espn/rss/mlb/news
ESPN.com – MLB
Latest MLB news from ESPN.com
http://a.espncdn.com/i/tvlistings/tv_espn_original.gif