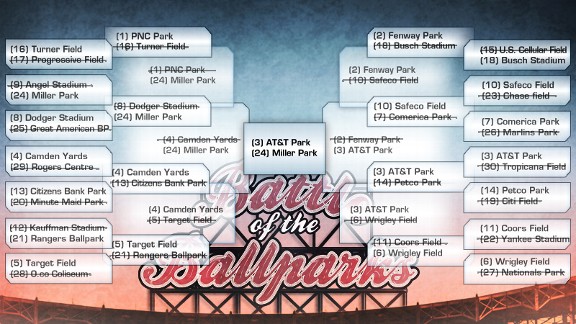 ESPN.com IllustrationMiller Park knocked out some heavyweights (Camden Yards, PNC Park) to reach the championship.
Thanks to the wonders of social media, it comes down to this:
Your finale for baseball's best ballpark pits a privately funded retro-park that offers gorgeous views of San Francisco Bay, McCovey Cove and Matt Cain, plus the aroma of garlic fries and the taste of microbrews, against a stadium with the feel of an airline terminal that also features races between people in giant-sausage costumes.

Guess which will win.
That's right. Based on the way Milwaukee has gotten out the vote — I think it's even getting votes from people so old they still consider the Fonz cool — you're going to crown Miller Park as baseball's best stadium tonight. That will be great news in Wisconsin, which really has very passionate and underrated fans, but everyone else might feel like they were just smacked upside the head by Randall Simon.
The decision is yours. Do you want the Milwaukee voting bloc to control the final champion? Or do you want the rest of the country outside Brewers Nation to have a say in what ballpark really is baseball's best? Do you want Milwaukee to call the shots, or do you want to take back this election? If it's the latter, you'd better vote and encourage all your Facebook friends and Twitter followers to vote as well, because that Milwaukee social media bloc has turned the Battle of the Ballparks into the baseball equivalent of the Arab Spring. Or the Kardashians.
Whatever you do, get your vote in early We're closing the precincts at 9 p.m. EDT. That's 8 p.m. CDT and 6 p.m. PDT, for you Brewers and Giants fans, respectively.
(3) AT&T Park vs. (24) Miller Park
---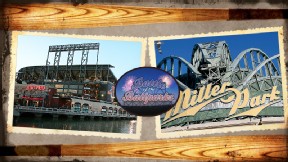 This really should be a mismatch. AT&T Park is a sublime stadium with spectacular views, great concessions and a distinctive field. Miller Park is a big stadium best known for the tailgate parties held outside its walls and the sausage races held inside. But based on voting in previous rounds, it's going to be hard to stop Bernie Brewer from sliding to victory.
Voter's Guide
1. Location: The best ballparks not only are in the heart of a city, but they also feel as if they are deep in the city's soul, with identifiable views, distinctive features and a relationship with the surroundings.

2. Architecture: All ballparks have diamonds and inviting green pastures, but the best ones have signature architectural elements.

3. History: Even the best facilities filled with every imaginable amenity and design touch are lacking until the memories of past games are thick. As James Earl Jones says in "Field of Dreams," fans "will have to brush them from their faces."

4. Seating: Seats should be comfortable, well-angled to the field, not stuck behind a post, close enough to the field to see a batter scratching himself and with sufficient leg room.

5. Price: Seating should also be affordable, or at least reasonable. Cheaper seats are good; luxury suites are bad.

6. Concessions: Bad stadiums serve plain hot dogs that have been rotating on the grill since Omar Vizquel's rookie season. Good ones serve foods that are local specialties. They also offer more than one type of beer at prices that don't require applying for one of those team credit cards first. The best parks allow you to bring in your food.

7. Scoreboards: Scoreboard watching is one of the joys of baseball, especially when you have a great scoreboard like Fenway, Wrigley or Target Field.

8. Transportation: The park's location should be well-served by public transportation and road infrastructure, with sufficient parking.

9. Roofs: Bonus points for parks with roofs that retract for bad weather. Negative points for roofs that stay in place during good weather.

10. Grass: As Bill Veeck once said, baseball should always smell of freshly mowed grass. Not the backyard of "The Brady Bunch."
Battle of the Ballparks: The grand finale
http://espn.go.com/mlb/story/_/id/8084525/battle-ballparks-championship-vote-mlb-best
http://sports.espn.go.com/espn/rss/mlb/news
ESPN.com – MLB
Latest MLB news from ESPN.com
http://a.espncdn.com/i/tvlistings/tv_espn_original.gif