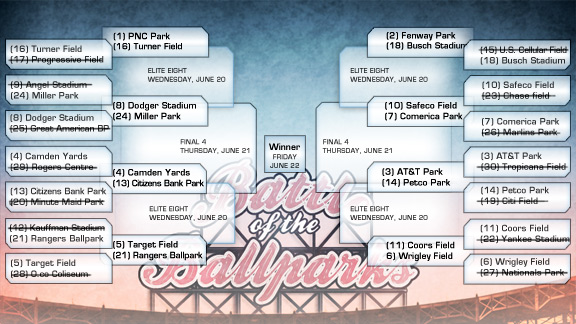 ESPN.com Illustration(21) Rangers Ballpark edged (12) Kauffman Stadium, home of the 2012 All-Star Game, to advance.
Well, the first round is over, and here are some quick thoughts:
Either there was a huge "get out the vote" tailgate rally in Milwaukee or the Rally Monkey fell down on the job, because Angels Stadium got whipped by Miller Park in the round's bracket-busting upset. Congrats, Brewers fans, but shame on you, Angels fans! Like Albert Pujols, you got off to a slow start. And unlike Albert, you won't be able to overcome it with a strong second half.

Kauffman Stadium remains incredibly underrated after narrowly losing to Rangers Ballpark. Perhaps we should have held the vote after the All-Star Game so fans could have gotten a reminder of Kauffman's beauty. After all, fans nationwide probably have forgotten what the place looks like in the nearly 30 years since there was an important game there.
Comiskey's old reputation precedes it, because the stadium got whipped by Busch Stadium. Where are the dead Cook County voters when you need them?
Camden Yards, Target Field and AT&T Park all won in huge routs with 90-plus percent of the vote. But good lord — do 10 percent of fans really think Tropicana is better than San Francisco's ballpark?
But now the bracket gets a little tougher as the second round begins. First, we're adding the No. 1 and 2 seeds — PNC Park and Fenway Park — to the bracket. And the other matchups get a little more competitive, particularly between Safeco Field and Comerica Park, and Dodger Stadium and Miller Park.
Who will advance to the third round? Vote and then keep checking back here, because I don't think John King will be giving exit poll results on CNN.
VOTER'S GUIDE
1. Location: The best ballparks not only are in the heart of a city, they feel as if they are deep in the city's soul as well, with identifiable views, distinctive features and a relationship with the surroundings.

2. Architecture: All ballparks have diamonds and inviting green pastures, but the best ones also have signature architectural elements.

3. History: Even the best facilities filled with every imaginable amenity and design touch are lacking until the memories of past games are so thick. As James Earl Jones says in "Field of Dreams," fans "will have to brush them from their faces."

4. Seating: Seats should be comfortable, well-angled to the field, not stuck behind a post, close enough to the field to see a batter scratching himself and with sufficient leg room.

5. Price: Seating should also be affordable, or at least reasonable. Cheaper seats are good; luxury suites are bad.

6. Concessions: Bad stadiums serve plain hot dogs that have been rotating on the grill since Omar Vizquel's rookie season. Good ones serve foods that are local specialties. They also offer more than one type of beer, at prices that don't require applying for one of those team credit cards first. And the best parks allow you to bring in your food.

7. Scoreboards: Scoreboard watching is one of the joys of baseball, especially when you have a great scoreboard like Fenway, Wrigley or Target Field.

8. Transportation: The park's location should be well-served by public transportation and road infrastructure, with sufficient parking.

9. Roofs: Bonus points for parks with roofs that retract for bad weather. Negative points for roofs that stay in place during good weather.

10. Grass: As Bill Veeck once said, baseball should always smell of freshly mowed grass. Not the backyard of the "Brady Bunch."
(1) PNC Park vs. (16) Turner Field
---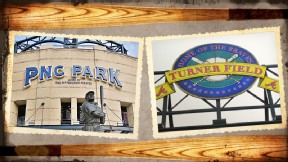 After a first-round bye, the top-seeded park with gorgeous views of Pittsburgh, superb concessions and a true feel of its city enters the bracket against a former Olympic stadium that now has a giant cow on the roof.
(8) Dodger Stadium vs. (24) Miller Park
---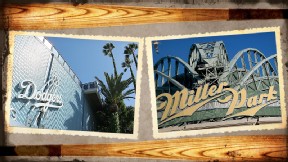 After turning 50 in April, the home of Magic and magic games is matched up against the biggest upset victor from round one. Milwaukee is home to the best tailgating in baseball, while Chavez Ravine is home to the most taillights you see leaving in the seventh inning.
(4) Camden Yards vs. (13) Citizens Bank Park
---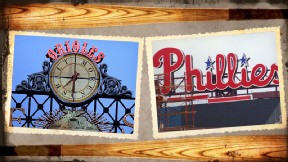 This will be a tough vote for the Phanatic. Does he vote for his wonderful home, or does he vote for the sublime original retro-park that also offers the delicious calories of Boog's Barbecue?
(5) Target Field vs. (21) Rangers Ballpark
---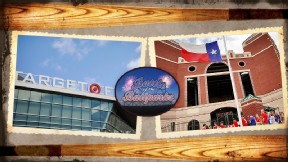 The Rangers' stadium squeaked through with a narrow 145-vote upset over Kansas City, but it faces an even tougher opponent with the absolute jewel in Minnesota. We can only hope this vote doesn't drag out as long as the Al Franken-Norm Coleman Senate election — we've got to get to the third round.
(2) Fenway Park vs. (18) Busch Stadium
---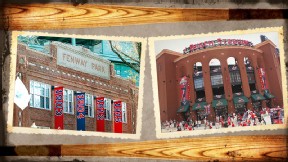 The No. 2 seed enters the bracket against the stadium where the Red Sox finally ended their 86-year world championship drought. Can the home of Ted Williams, Carl Yastrzemski and Samuel Adams beat the home of (the unfortunately departed) Albert Pujols, David Freese and Bud?
(7) Comerica Park vs. (10) Safeco Field
---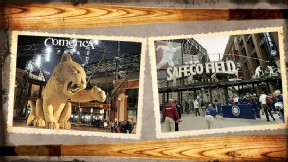 Will this matchup of two great pitchers' parks wind up in a long scoreless tie? Or will Seattle voters not only send Safeco on to the third round but also pass a referendum to move in the fences?
(3) AT&T Park vs. (14) Petco Park
---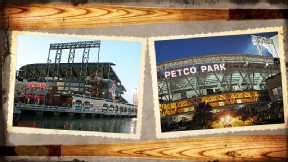 McCovey Cove, the giant glove and garlic fries versus the warehouse, camo unis and fish tacos in a battle of beauties on the West Coast. We'll give the results on the late edition of SportsCenter.
(6) Wrigley Field vs. (11) Coors Field
---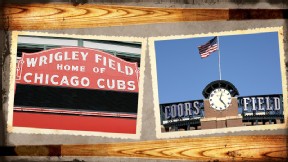 Wrigleyville's neighboring rooftop terraces provide a better view of the field than do Coors' neighboring Rocky Mountains, but will fans cast their votes for old ivy walls and Old Style or for the rock pile and mile-high brewpub?
Battle of the Ballparks: Sweet 16
http://espn.go.com/mlb/story/_/id/8071584/battle-ballparks-second-round-vote-mlb-best
http://sports.espn.go.com/espn/rss/mlb/news
ESPN.com – MLB
Latest MLB news from ESPN.com
http://a.espncdn.com/i/tvlistings/tv_espn_original.gif