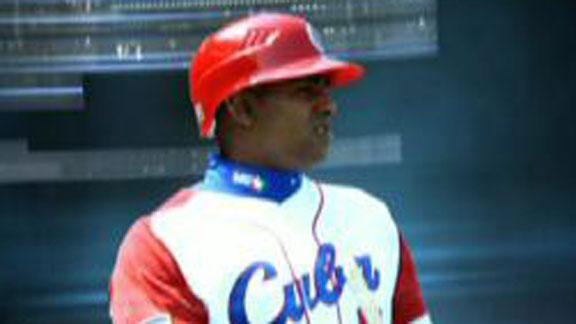 VIDEO PLAYLIST
Cuban outfielder Yoenis Cespedes has agreed to a four-year, $36 million deal with the Oakland Athletics.
Cespedes
Cespedes can sign Monday after receiving his unblocking license from the U.S. Treasury Department's Office of Foreign Assets Control, his agent, Adam Katz, told ESPN.com's Jayson Stark.
The outfielder needed the clearance because he is a Cuban national who has established residency in another country after defecting.
"At the end of the day with all these big free agents, it comes down to the total package," Katz said. "Sure, money and the economic package had something to do with it. But it's also about all the surrounding circumstances. And basically, this was a player who felt like this club wanted him more than anybody else."
Once he receives his worker's visa he is free to show up for spring training and play for the A's.
The contract allows him to become a free agent after the fourth year instead of having to wait six, Katz said.
According to the San Francisco Chronicle, Cespedes will receive $6.5 million in his first year, $8.5 million in his second year and $10.5 million in each of the last two years of the deal.
The 26-year-old slugger is tied with Fernando Despaigne for the Cuban League's single-season home run record with 32.
Cespedes established legal residency in the Dominican Republic last month after saying six other major league teams were interested in signing him.
Cespedes met with the Miami Marlins and toured their new ballpark on Wednesday.
The other teams Cespedes said he drew interest from were the Baltimore Orioles, Detroit Tigers, Cleveland Indians and the Chicago Cubs and White Sox. The Athletics were never mentioned.
The agreement also follows a week after the Athletics said they were extending the contracts of general manager Billy Beane and president Michael Crowley through the 2019 season.
The franchise has been seeking approval from Major League Baseball to move to the South Bay, where the San Francisco Giants hold territorial rights to the technology-rich region filled with fans and corporate dollars.
The A's, who open the season early against the Seattle Mariners in Japan on March 28, are hoping for a resolution to the long-standing dispute soon.
Information from ESPN.com senior writer Jayson Stark, ESPN The Magazine senior writer Buster Olney and The Associated Press was used in this report.
A's to sign Cuban OF Cespedes to 4-year deal
http://espn.go.com/mlb/story/_/id/7570918/yoenis-cespedes-agrees-4-year-36-million-deal-oakland-athletics
http://sports.espn.go.com/espn/rss/mlb/news
ESPN.com – MLB
Latest MLB news from ESPN.com
http://a.espncdn.com/i/tvlistings/tv_espn_original.gif